What's BJP's Beef with Pakistan? It's not what you think.

Pink Revolution (A term used to denote the technological revolutions in the meat and poultry processing sector) was introduced in election campaigning by Narendra Modi (Then Gujarat CM and Currently PM) in General elections 2014 to accuse ruling party Congress for encouraging "Cow Slaughter". Since then, it has been a prominent election issues for BJP across India. As a consequence of Modi's Beef Politics, killing poor Indians in the name of Beef/Cow has been normalised, so much so that no one bats an eye for Beef Murders.
Another electoral dirty trick used by Narendra Modi frequently to demean the opposition is linking them with Pakistan based on totally imaginary and irrelevant anecdotes (sometimes outright lies). He had alleged Arvind Kejriwal & A K Antony (LS 2014), Nitish Kumar (Bihar 2015), Mamta Banerjee (West Bengal 2016) and Manmohan Singh & Mani Shankar Aiyyer (Gujarat 2017) of colluding with (or working for) Pakistan – without offering ANY proof whatsoever. In fact, it is becoming increasingly clear that PM Modi does not mean what he says. Ever!
As with everything else coming out from BJP, especially from PM Narendra Modi, the rhetoric about Pink Revolution and Pakistan is all a fiction at best and a dirty plot based on a huge lie to murder Indians at worst. India's Beef exports have been majorly Buffallo Meet, so there was no Pink Revolution by Cow Slaughter during earlier Governments. And whatever the so called Pink Revolution was, it continues during Modi regime. Similarly, PM Modi has not even tried to prove his allegations on Leaders of non-BJP parties of collusion with Pakistan, forget about any real action. Because Modi himself knows his allegations are all Lies.
Why is Pakistan PM Modi's "Most Favored Nation"?
If you still rely on TV News for information, you may not know this, but PM Modi hasn't yet revoked Pakistan's status as "Most Favored Nation"! Why? For Business, of course! And what do we export to Pakistan? Beef, among other things. And which states export Maximum Beef to Pakistan? BJP Ruled states! Surprised?
According to Directorate General of Commercial Intelligence and Statistics (DGCIS), Ministry of Commerce and Industry (GoI), Uttar Pradesh Govt has sanctioned meat export of 2,66,700 Kg. Indian kettle weighs around 550 kg on an average, after the slaughter of the kettle the average raw meat weighs around 380-400 kgs. Between April 2017 to September 2017, India has exported around 5,012 tons Beef taking lives of 11,963 kettle of which Uttar Pradesh government has legally slaughtered around 7,018 to export the meat to Pakistan.
| | | | |
| --- | --- | --- | --- |
| States | Beef Export (Kgs) | Contribution (%) | State Govt |
| Uttar Pradesh | 2667000 | 58.7 | Yogi Adityanath (BJP) |
| Maharashtra | 1491000 | 32.8 | Devender Fadnavis (BJP) |
91.5% of total beef export to Pakistan is from just 2 states, both ruled by RSS trained BJP. Hindutva Anyone? RSS indeed loves Pakistan. In fact, recently 'clean-chited' & celebrated Malegaon Blast accused Lt Col Shrikant Purohit is alleged to have ordered to murder RSS Suprimo Mohan Bhagwat due to suspicion that he was on ISI payroll. It is not mere coincidence that most ISI stooges turn out to be connected to BJP directly or indirectly!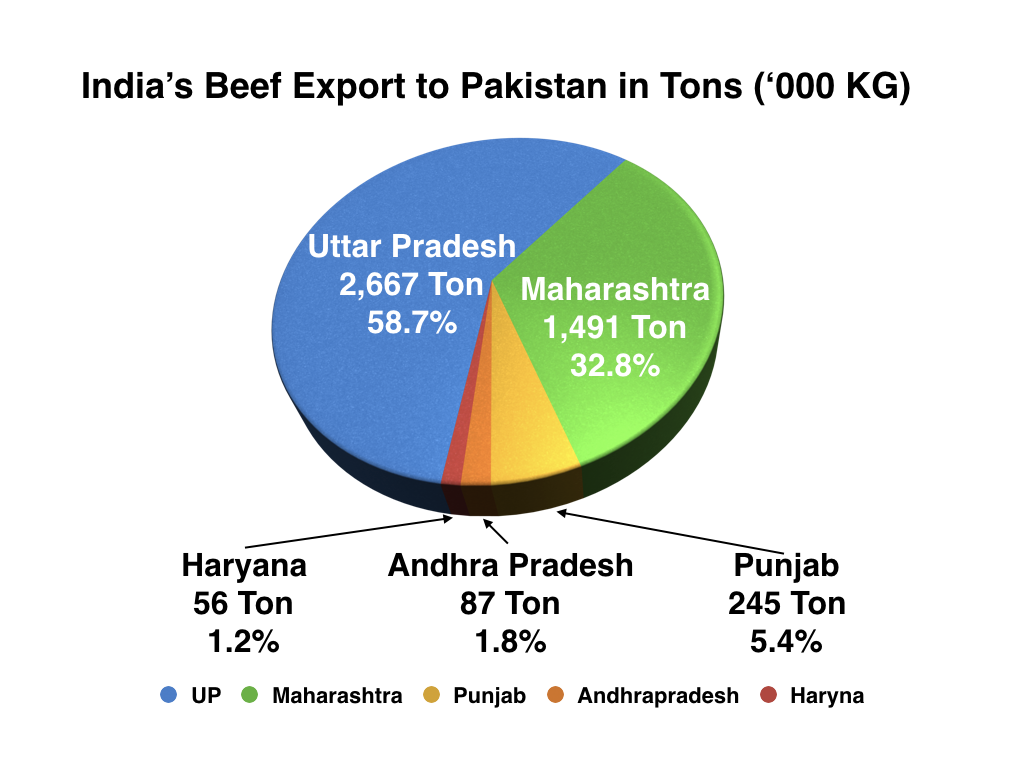 Behind The Curtains: BJP is in Beef Business
Empty rhetoric about an issue for political benefit is one thing but wrongly accusing others of the dirty deeds – what Modi-BJP does all the time – requires a whole another level of cheapness, but fear not. PM Modi is master of this dirty trick. Take case of Beef Politics itself. BJP has no shame in benefitting from meat trade, all the while wrongly accusing others of actively engaging in an imaginary "Pink Revolution". You have to be a totally superior "Neech Aadmi" to do such dirty tricks. Look at the facts of this "Neech Rajneeti".
1. Political Donations: BJP has been receiving major political donations from major beef trading companies. In the run-up to Lok Sabha polls in 2014, three companies – Frigorifico Allana Ltd, Frigerio Converva Allana Ltd and Indagro Foods Ltd – contributed Rs 2 crore to the Cow Lover Party. All three companies are subsidiaries of Allanasons Ltd with their registered address at Allana House, Allana Road, Colaba, Mumbai. Today, the same company enjoys "Premium Trading House" including several exemptions including export duties etc. under it, Courtesy Devendra Fadnavis, CM, Maharashtra.
2. Partners in Beef Company: Sangeet Singh Som, the fiery BJP leader at the forefront of the frenzied anti-beef protests and an accused in the Muzaffarnagar riots had been co-owner of Beef Trading company called Al-Dua. When the reports surfaced in 2015, initially Som denied the involvement but later he had to accept.
3. BJP offering Beef for Votes:
Besides business, does BJP really care for 'Cows'?
Having inspected the facts and figures of pink revolution, let's ask, does BJP really love Cows? You'll find many news reports about cows dying in huge numbers across India, especially in BJP Ruled states.
8122 Cows died in Rajasthan's Hingonia Gaushala in less than a year. Thousands of such Gaushalas (Cow Shelters) are scattered across India.
Amid surging vigilantism, 1300 cows dead in 4 months at cow shelter in Gwalior, Madhya Pradesh.
152 cows die in 5 months at one of country's biggest and richest shelters in Uttar Pradesh (UP).
Gau Rakshaks Missing in Action as Bundelkhand's Cows Die of Starvation.
If BJP or PM Modi indeed loved cows, they would have done something to tackle the rampant corruption in such cow-shelters. Instead of spending 100s of crores on each election rally or 10000s of crores for PM's Publicity, they would have spent a few crores after such cow-shelters. But Modi/BJP doesn't really care for cows. In fact, when a BJP Leader was arrested for deaths of 200 Cows in a cow-shelter run by him, he blamed BJP for this! If you really want to know how much Modi/BJP love cows, ask PM Modi/BJP to provide number of cows deaths across India under their watch and reasons for it. Do you dare!
Beef Trading has nothing to do with religion, but BJP has !!!
And one can make claims now that this meat is exported by Non-Hindu traders. That's another bogus claim to confuse unaware Indians & misguided Hindus. These are major names of beef traders.
| | |
| --- | --- |
| Slaughter House | Prime Owner |
| Al Kabeer Exports Pvt. Ltd | Satish Saberwal |
| Arabian Exports Pvt. Ltd | Sunil Kapoor |
| MKR Frozen Food Exports Pvt Ltd | Madan Suri |
| Al Noor Exports Pvt Ltd | Sunil Sood |
| AOB Exports Pvt. Ltd. | O P Arora |
| Standard Frozen Foods Exports Pvt. Ltd | Kamal Verma |
| Maharashtra Food Processing and Cold Storage Pvt. Ltd | Sunny Khattar |
In fact, 70% Indians are Non-vegetarian. 80% of Indian Population is Hindu, so more Hindus eat meat than total population of all other religions combined. Sanghis – unaware of the very essense of Hinduism – that all lives are equal – argue that Cow meat-Beef is special because Cow is a pious/divine animal, but Hinduism sees all life-forms as equal. A Cow is not batter or worse than a Vegetarian Hindu or a Beef eater Sanghi (BJP Leaders do eat Beef, and they have confessed so). In fact Savarkar – A British stooge who pioneered the cultivation of Hindutva Poison in India, whom RSS regards as their ideological father  -himself was of the opinion that Cows should to be cared for because of their usefulness, not to be worshiped. Finally, BJP's Minister of State for Home Kiren Rijiju's video confession doesn't convince you of BJP's duplicity on Beef, ask yourself, who does this car illegally transporting Beef belong to? This photo was taken when PM Modi was CM of Gujarat.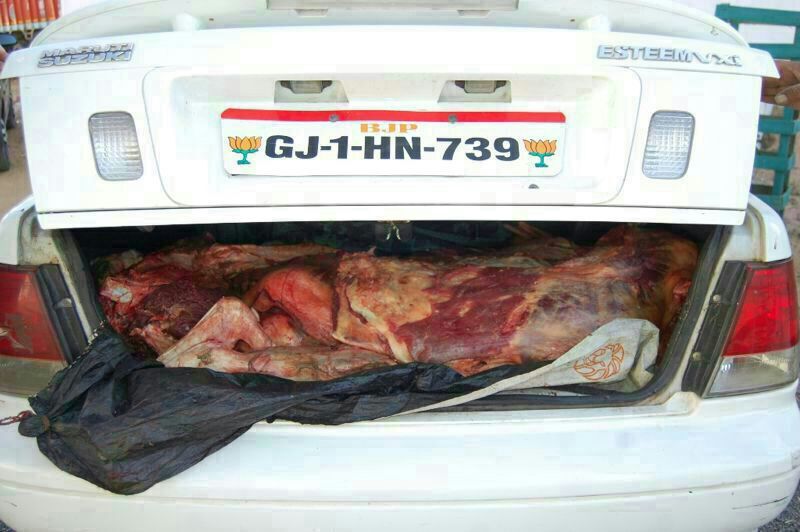 Why this Cow'laveri D?
So what's the rationale of BJP's Beef Politics? 80% population of India is Hindu. So to get their votes simplest (Fasist) way is to convince them that those who are different from Hindus (meaning all non-Hindus) are enemies and if Hindus don't vote for BJP (or vote for non-BJP Parties), the very existence of Hinduism – and thus existence of India, is in danger. And that's what Modi-BJP are doing. They harass and Kill – directly or indirectly – the non-hindus to brain-wash Hindus and appease the brain-washed. By linking non-BJP Parties with Beef and Pakistan (a non-Hindu country), they're telling their core voters that those are the 'others' – the enemies.
After nearing 4 years in power Prime Minister Modi has neither stopped the beef export nor done any actions to stop issuing licenses to beef exporters but you can keep listening "Hindu Khatrein Mein Hain".
If you're interested to read more about PM Modi's Beef Politics, Read this article.
FlashBack
Here are some parts of PM Modi's speeches on Beef to show you what a great man our PM is.
1. From a speech delivered by Modi on April 2 in Nawada in Bihar, as part of his 2014 election campaign.
I am coming from Dwarka city and Dwarka has a direct connection to the Yaduvanshis (referring to Bihar's Yadav caste). And because of this connection, I feel at home here. I am therefore shocked that the same Yadavs who worship Shri Krishna, who keeps cows as livestock, who serves the cow, it is their leaders who are in bed with the same people who proudly massacre animals.
We've heard of the Green Revolution, we've heard of the White Revolution but today's Delhi sarkar wants neither; they've taken up cudgels for a Pink Revolution. Do you know what that is? (points to crowd). That's their game; they're keeping the country in the dark. I want to ask Mulayam Singh Yadav and Lalu Prasad Yadav: do you want to support the people who want to bring about a Pink Revolution?

When you slaughter an animal, then the colour of its meat is pink. This is what they call a "Pink Revolution". And the Centre said with pride that, last year, India has earned the most from exporting meat. Across the countriside, our animals are getting slaughtered. Our livestock is getting stolen from our villages and taken to Bangladesh. Across India too, there are massive slaughterhouses in operation. And that's not all. The Delhi sarkar will not give out subsidies to farmers or to Yadavs keeping cows but will give out subsidies to people who slaughter cows, who slaughter animals, who are destroying our rivers of milk, as long as they set up qatlkhanas (slaughterhouses).
(The next day, Modi flew to Ghaziabad, where he made the same speech, drumming up a sinister conspiracy to slaughter cows. Ghaziabad is less than 20 kilometres away from Dadri.)
2. Addressing the Jain International Trade Organisation, a worldwide body of Jain businessmen and professionals, this is what PM Modi had to say in 2012:
It is the Central government's dream that they will bring about a Pink Revolution in India and export meat throughout the world. This year, the Centre has itself announced that India is the world's largest beef exporter. Is this what we pride ourselves on? Brothers and sisters, I don't know whether this saddens you, but my heart screams out at this. I am unable to understand why you are silent, why you are taking this lying down?
3. From PM Modi's speech on the birth anniversary of Maharana Pratap:
Rana Pratap dedicated his life to gau raksha (cow protection). He fought wars and sacrificed young men to protect the cow. But what is happening today? Even the Supreme Court has said that we need a national cow protection law. But due to vote bank politics, the Central government is refusing to bring in such a law.

Brothers and sisters, I recall Maharana Pratap today with pride because my government in Gujarat has brought in a cow protection law.

While we talk of the White Revolution or the Green Revolution do you know what the Central Government is up to? Go to the Internet and read up on it. The Centre's dream is to bring about a Pink Revolution….To make money, plans are being made to slaughter gaye maa (the mother cow) and it is at moments like this that you remember Rana Pratap (thumps lectern angrily).
You're welcome and encouraged to fact-check everything on our site and everything our PM Modi has ever said or will say.