Snoopgate – Beti Chhupao, Beti Bachao

The snooping of a young lady by Modi and Shah was an illegal encroachment into a citizen's right to privacy, and corroborated IAS Pradeep Sharma's allegations against Mr Modi. What if, maybe, just maybe, his allegations were true?
A tale of two brothers
Sons of late N.N. Sharma, who had served as a deputy superintendent of police in Gujarat, Brothers Pradeep Sharma and Kuldeep Sharma were living the Indian Dream, with exceptional careers in Bureaucracy.
Pradeep Sharma
Pradeep Sharma joined the Gujarat Administrative Service in 1981 and was promoted to the IAS cadre in the year 1994. Typically, around 35 officers are selected for class I roles, of these only about 10-15 get promoted to IAS level, that too after typically completing 15-17 years. [1] Further, Mr Sharma earned two separate Master's degrees from abroad – a Master's in Development Management (1990) as an Asian Development Bank scholar in Manila, Philippines; and a second Master's in Economic Policy and Planning (1994) from Boston, USA, as well as an Executive Diploma in Rural Development Policy and Planning (1989) from the Institute of Development Studies at the University of Sussex in the U.K.
The fact that Mr Sharma got this promotion, and was granted these study leaves, suggests that he was having a decent and normal career.
Between 2001 and 2003 Mr Pradeep Sharma served as the Municipal Commissioner of Jamnagar. He was promoted to District Magistrate and Collector of Kutch on 28.05.2003. He remained in the post till 2006, after which he was transferred to Bhavnagar.
A massive earthquake had destroyed large parts of Gujarat in 2001. Pradeep Sharma's work in reconstruction was acclaimed by several organizations. A BBC report on this says: [2]
Pradeep Sharma was the government official widely credited at the time with pushing through the radical plans.
As a part of the reconstruction, Mr Pradeep Sharma also convinced the Jewellers of the Sarrafa bazaar, led by Mr Pranlal Soni, to allow for widening of the road that ran through it. On January 27, 2004, this revamped market was inaugurated by the CM Modi, the first time the paths of Mr Pradeep Sharma, Mr Pranlal Soni, and Mr Narendra Modi are said to have crossed. [3] Pradeep Sharma also worked closely with Pranlal Soni's daughter Manasi Soni, a landscape architect based in Bangalore, to develop a hill garden in Bhuj.[4]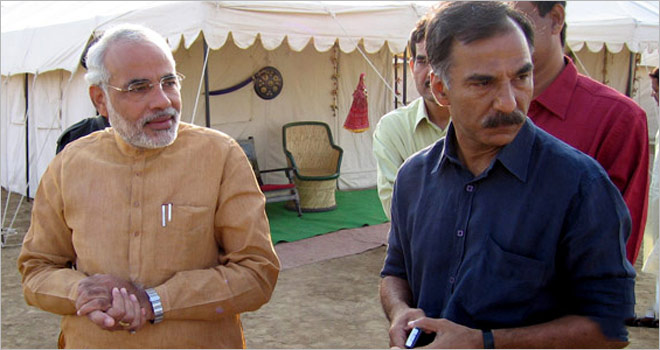 Kuldeep Sharma
Elder brother Kuldeep Sharma, was an 1976 batch IPS officer. Kuldeep was also the first DIG of Gujarat anti-terrorist squad (ATS) when it was set up in May 1993. In 1995, Sharma was the only Gujarat-cadre IPS officer to serve as Officer on Special Duty (OSD) in the Chief Minister's Office (CMO) when Suresh Mehta was CM. He also served as police commissioner of Rajkot, Vadodara and Surat between 1998 and 2001. [5]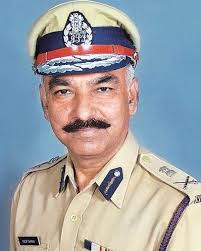 In several cases, Kuldeep Sharma had refused to bow to the whims of Modi and Shah. He arrested president of the BJP's Banaskantha district unit Mahesh Dave for the murder of a Muslim doctor. Sharma probed allegations of extortion against Kamlesh Tripathi, a close associate and political ally of Amit Shah, and Despite pressure from Shah, Sharma got the complaint registered. BROKEN! [5]
Kuldeep, in his capacity as additional director general of police,CID (crime) in 2005 submitted a report to the Gujarat chief secretary Sudhir Mankad alleging that Amit Shah took a bribe of Rs 2.5 crore to bail out a conman Ketan Parekh who fraudulently withdrew Rs 1,600 crore from the Madhavpura Mercantile Cooperative Bank. Kuldeep collected call records and flight details that supported the allegations that Shah and Parekh had struck a deal and had stayed in touch over phone, and recommended that an enquiry be launched against Shah, who was also a director of the bank. After this, when Sharma was on training in Mussoorie, the state government transferred him out of CID (crime) and put GC Raiger in his place. Raiger was told to take charge immediately.
In 2007, IPS officer R.K. Pandian, now an accused in the Sohrabuddin Sheikh fake encounter case and in jail for the past six and a half years, allegedly circulated an audio CD in the media of a taped telephonic conversation allegedly between Kuldeep and a smuggler who had fled India. The CD was later found to have been doctored. Kuldeep believed it was done by Shah to defame him. Sources claim it was after this that he became an active collaborator with those trying to destabilise Modi.[6]
This was the beginning of increased friction between Sharma and the Modi government. It is alleged that it was Sharma who had blown the lid off the killing of Sohrabuddin Shiekh in a fake encounter. [7] [8] He was directing the probe in the Sohrabuddin encounter case that was being conducted by his immediate subordinate, Geeta Johri. It was Sharma who approved the first report on the encounter that was sent to the Supreme Court. This report, for the first time, revealed that the encounter was fake. Then in September 2009, Metropolitan Magistrate SP Tamang produced his report into the fake encounter of Ishrat Jahan. Again, one of the accused blamed. Kuldeep Sharma "for raking up an unnecessary controversy".[9][10]
Soon after, in November 2009, Kuldeep – the senior-most Indian Police Service (IPS) officer in Gujarat, who was slated to be the top cop in Gujarat, was relieved of his police duties and relegated to the Gujarat State Sheep and Wool Development Corporation, an entirely inappropriate job for a police officer.
The witch-hunt begins
After this, a series of cases cropped up against the brothers, who were now facing the full wrath of Shah and Modi.[11]
On 6th January 2010, Pradeep Sharma was arrested from his home in early morning, for a case dating from 2007, in connection with an alleged 2002 post-earthquake land scam at Bhuj in Kutch in which his name did not even figure in the original FIR. [12] The land in question was allotted to a trust by the government and even the price for the same was fixed by the government. Sharma,the then collector, was not responsible for it. In fact,the collector had put more conditions for the allotment of the land than the Government.[13] Gujarat Government fought his bail application very strongly.
in March 2010, Gujarat Government gave sanction to a nine year old complaint against Kuldeep Sharma. [14]
The Gujarat CID lodged an FIR against Kuldeep Sharma and three others on August 10 2010 in connection with an encounter case from 1984, i.e. 24 years ago! [15] In this FIR, Sharma and others were charged under IPC sections 120B (criminal conspiracy), 302 (murder), 307 (attempt to murder), 365 (kidnapping), 368 (wrongful confinement), 506 (criminal intimidation) besides rioting and other sections. [16]
Pradeep Sharma was released on bail in September 2010, but soon afterwards, Gujarat Government filed yet another case against him, this time of land allotment to Welspun group. This had allegedly incurred the state government a loss to the tune of Rs 1.2 crore. [17]
In January 2011, Pradeep Sharma's co accused in the land scam, Bhuj-based businessman Arvind Thakkar was found in an unconscious state in his room in the morning, allegedly he had committed suicide by consuming pesticide. The Gujarat police officials of Bhuj believed that he timed his suicide to coincide with this date because he "wanted to send a message across". Yet, strangely for a person trying to send a message, he had not left any suicide note, to explain exactly why he took this extreme measure! [18]
Then, on 2nd March 2011, Arvind Gadhvi, who had run the campaign against this scam single-handedly, died of cardiac arrest. [19]
In Jul 2011, Magan Soma, a constable deputed as orderly to Kuldeep Sharma, died of cardiac arrest in New Delhi, and Gujarat Government filed charges of atrocity against Mr Sharma. [20]
In May 2011, Pradeep Sharma submitted his petition to the Supreme court of India, alleging that he was harassed by Mr Modi for settling scores with his brother Kuldeep Sharma, and also because Mr Modi was trying to hide his relationship with a lady named Manasi Soni, who was a close friend of Mr Pradeep Sharma too, and he was privy to this. [21]
Finally Pradeep Sharma was given a bail in December 2011. [22]
In 2012, yet another case from 1984 was dug up against Kuldeep Sharma. Earlier, The Gujarat government had itself filed an application before the Bhuj court in 1987, saying that the case be dismissed for want of sanction. [23]
The Singhal Tapes
When Pradeep Sharma made his petition to the Supreme Court, the allegation that he was being harassed because of his brother's actions against Amit Shah still added up circumstantially and looked plausible.
But, his allegation about Modi's illicit affair with a young lady architect Manasi Soni, who was also Mr Sharma's close friend, looked very far fetched to most people.
Could CM Modi really do this?
Gujarat IPS officer G L Singhal was repeatedly given verbal orders via phone by Amit Shah. Many of these were for illegal things such as doing fake encounters. Singhal was worried that Modi and Shah would use and dump him at a later stage, so recorded all his phone conversations. Singhal, who is an accused in the Ishrat Jahan fake encounter case (Ishrat was killed, along with three others, by the Gujarat police in 2004) and out on bail, handed over hundreds of recorded telephonic conversations to the CBI revealing how the three key wings of the Gujarat police — the state intelligence bureau, also known as CID intelligence, the crime branch, and the anti-terrorist squad — misused their powers to stalk an unmarried young woman. Singhal's only young son allegedly committed suicide after learning about his father's deeds, and the tragic incident prompted a change of heart.
The tapes largely not only corroborated Pradeep Sharma's allegations, but also had Amit Shah ordering an illegal snooping of Mr Sharma, in addition to Manasi Soni. In fact, Shah looks particularly worried about Soni meeting Pradeep Sharma.[24]
Amit Shah: Singhal. Any updates?
G.L. Singhal: Sir, she has left the hotel and now she is going back towards Prahlad Nagar.
Shah: How are your relations with SP Bhavnagar?
Singhal: Good enough, sir!
Shah: Check whether the commissioner is at her home or would be coming here.
Singhal: Okay, sir.
Amit Shah: So today deploy 8 to 10 men first. That man is going to stay at Kuldip's house there…then he has called a Bhavnagar Municipal Corporation car.
G.L. Singhal: Yes, yes, yes.
Shah: And the ***** matter, keep a watch the whole night.
Singhal: Right.
Shah: Call for men.
Singhal: Yes, yes, yes.
Shah: As he will stay here for a day or two and try to begin with her tactics.
Singhal: Right.
Shah: I have their conversation and know the nature of their relationship.
Singhal: Yes, yes, yes.
BJP's "Daddy" defense
Both Amit Shah and Narendra Modi chose to remain silent, and did not issue any clarifications to clear their name. Till date, Gujarat government has also officially not commented on the transcripts.
When these tapes first became public in Nov 2013. The Gujarat Government immediately setup a panel to investigate them. No, don't be mistaken, this was not to probe why the Home Minister of Gujarat had deployed 10 ATS officers on an illegal round the clock snooping of a lady for over two months, and why he and his saheb, appeared to be monitoring this snooping so closely, almost on an hourly basis. The panel was to determine if the tapes, given to CBI by the person who had recorded them voluntarily, were genuine, and if there was any conspiracy behind them. [25]
While it was almost certain that the Saheb referred to in these tapes was Mr Modi himself, this was conclusively proven, and the fact that such a surveillance did take place acknowledged, by BJP themselves. They produced the lady's father in defence of Mr Modi and Shah.
Manasi's father, Pranlal Soni said he had orally requested Modi to "take care" of his daughter.  He wanted protection for his daughter who he believed was in an "inappropriate" relationship with the already married Pradeep Sharma. He told the National Commission for Women his daughter does not want the matter probed as there was no encroachment on her privacy. His sons floated energy saving firm Ecolibrium Energy, which worked with the Gujarat government.
But, this explanation leaves a key question open: what was the authorisation for such extensive tracking, tailing and snooping? S K Saikia, then Ahmedabad's police commissioner, told television news channel NDTV  that he was not aware of any paperwork for such surveillance, and that he should have been had it been legal. If regulations were not fully followed, then it amounts to an illegal invasion of privacy, whether or not the girl's father knew about it.
Neither morally nor legally does a parent have the right to organise intrusive surveillance of their adult child.
Besides, this version by Mr Pranlal Soni looks like a complete farce, a hurriedly arranged post-facto excuse to help Mr Modi. I would urge the readers to listen to the tapes, and also judge this for themselves.
Firstly, if security was a concern, and there was some genuine threat and proper grounds for providing security to Ms Manasi Soni at public expense, and this was being done with her consent, why not simply provide her with a couple of armed guards, instead of shadowing her with 10 Anti Terrorist Squad (ATS) officers?
Secondly, it is very clear from the tapes that the whole intent of this operation was not security, as claimed by BJP, but of some investigative nature, where Saheb and Shah are particularly concerned about who the lady meets, even out of her own free will.
Lastly, in several places in the tapes, it is abundantly clear that this was not being done with the lady's consent. On the contrary, she was definitely suspicious of being followed, and Singhal complains how she is too clever, and has dodged them.
Amit Shah: And the people with the placard….
G.L. Singhal: Yes sir, everything has been arranged.
Shah: No, no…I mean ask him in advance the hotel's name.
Singhal: Yes, yes sir.
Shah: So in case she escapes, we can keep a vigil at the hotel.
Singhal: Right, right sir.
Amit Shah: Both are there only?
G.L. Singhal: Yes sir, there itself.
Shah: Phone location is showing somewhere around Parimal Garden.
Singhal: No sir, I talked to Saheb.  According to that, they are still there.
Shah: Hmm. Alright, but they should not escape now any other way.
Singhal: Yes, sir.
Shah: Or in any car.
Singhal: Yes, sir.
G.L. Singhal: Sir, I have spoken to Sharma (IG intelligence A.K. Sharma) and he has asked for the latest location so that he can deploy his men there.
Amit Shah: Do that and pay full attention.
Singhal: Yes, of course sir…don't worry about that. She will not escape.
It is clear that the snooping was done without Ms Soni's knowledge. Even if it was being done at the behest of the parents, it was still illegal, as the state has no business in stopping an adult from meeting anyone out of their own free will. In fact, in the tapes, at one point, Singhal expresses inability to tap Ms Soni's mobile from her Bangalore based provider, as it would require a proper police procedure to be followed. Clearly, they were bypassing the legal safeguards that are in place to prevent the state machinery from infringing into the privacy of individuals.
In one place Amit shah asks to check the STD booth through which she had made a call. When mobile phone is available why would she use a public phone ? Was she aware that her phone is tapped? In one place Amit shah Says that "Saheb" got information about this and that. Was Saheb having a parallel investigation unit which was even more swift? In another place Amit shah says that "Saheb has come to know there is major activity". What was the "activity"?
In one conversation Amit Shah says to check whether Sharma is still in Bhavnagar only while she is in Ahmedabad to check whether Sharma was secretly planning to meet the girl. Later on, in Singhal's conversation with another police officer, they are discussing the movements of both Ms Soni and Mr Pradeep Sharma, and seem worried about their meeting. Does this not corroborate the allegations made by Pradeep Sharma several years earlier?
Finally, Pradeep Sharma claims that the Soni family itself had remained friendly towards him, even when he was arrested, Pranlal Soni had visited him alongwith his wife, and got food for him! Listen to his version here:
Why is this case relevant today?
Comparatively far more relevant than many other issues
Some people will no doubt ask, why are you raising this 4 year old issue today. If you look carefully, these very people will later themselves raise personal issues related to great leaders of Indian freedom movement such as Sardar Patel and Pandit Nehru who have died 67 and 53 years ago respectively. Shouldn't we be worried about the behaviour and personal conduct of the current PM of India, and it should be worthy of far more scrutiny than people whose funeral pyres have gone cold a long time ago?
Breach of a citizen's right to privacy
Recently, in a landmark judgement, the Supreme Court (SC) ruled that privacy is a fundamental right because it is intrinsic to the right to life. "Right to Privacy is an integral part of Right to Life and Personal Liberty guaranteed in Article 21 of the Constitution," the SC's nine-judge bench had ruled unanimously.
The state simply has no business whatsoever, in conducting surveillance of a citizen's personal life. Unless proper legal procedures are followed, as per the guidelines laid by law, by snooping on a person, the state is effectively treating him or her as a criminal! If we do not strongly resist this, you can easily imagine how this power can be misused by people in power who have full state machinery at their disposal. We have already seen this in recent times when hotel CCTV footage has been examined by intelligence agencies, and leaked to the media houses. All of this not in matters related to national security, but purely for propaganda against political rivals. It is abundantly clear that Mr Modi and Mr Shah have little regard for such rights and constitutional safeguards, in their ruthless pursuit for power. It is precisely because this issue was brushed aside by our media and our society, that they are able to repeat their snooping shenanigans with such impunity.
The Harassment of Sharma Brothers
When Pradeep Sharma first made his allegations, they looked far fetched.
A lot of water has flowed by the Sabarmati Ashram since then.
We now know of the sting operation that resulted in the material for the book, Gujarat Files; we have already seen honest officers such as JP Singh harassed and similarly targeted after serving a notice to Mr Adani in over invoicing scam; we have seen Delhi Chief Secretary Rajender Kumar's house raided by CBI (although nothing came out of it); we have seen a senior official VK Bansal harassed to the extent by Amit Shah's henchman at CBI, that he and his whole family was driven to commit suicide; We have seen transfer and even sudden deaths of judges dealing with cases of Amit Shah, and also lucrative post retirement assignments, in violation of all norms of propriety, to judges who delivered a favourable verdict. In summary, we have seen how Modi and Shah deal with bureaucracy – anyone showing a spine is harassed without any limits.
Do the Pradeep Sharma allegations still look incredulous? Let us say, there is only 1% chance his allegations have any merit. But, Maybe, just Maybe, if there is any chance he is right, consider the dangers – the kind of people who have gained such absolute power, and how they are likely to misuse it. Do we not, as citizens of India, deserve to confirm this, and save our country from the enormous risk if these allegations had any truth to them?
References