From Ru$$ia, with Love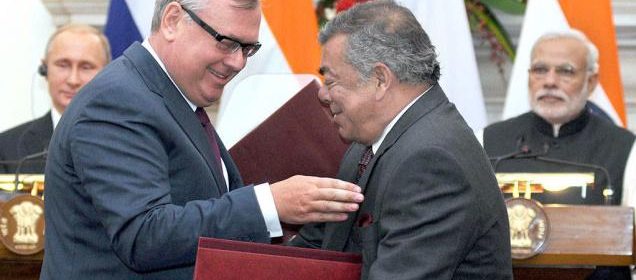 The recent purchase of Ruia's Essar Oil by Russia's Rosneft is at a rather attractive valuation in a bear market, raising speculation if there is something fishy in the deal, especially given the past reputations of both sides.
The Propaganda
Russian President Vladimir Putin and Indian PM Narendra Modi met on the sidelines of the recent BRICS summit in Goa, and signed several deals. One of these, the $13 Billion purchase of the 98% stake into Essar Oil was hailed as the single largest FDI ever made into India. Indeed, this was celebrated with the usual fanfare by Mr Modi's bhakts, and sections of media who have been reduced to the same. Several people, including Essar's official twitter handle,  were tweeting with the hashtag of #LargestFDI, hailing it as a major achievement of Mr Modi, the visionary leader who had ensured this. The following full page ad appeared on all major newspapers of India the next day.
Scratch below the surface, and this Oil deal raises some eyebrows. Was there a quid pro quo with some acquisitions made by Indian public sector firms? Were palms greased to achieve the overvaluations on either side? Or was this deal a conduit for a possible money laundering by a person under US sanctions? Or would the liabilities of Essar Oil be artificially inflated to cheat the retail investors of India?
The Ruia Brothers & Essar Oil
The Ruia brothers – Mr Shashi Ruia and Mr Ravi Ruia, the "Ess" and "Ar" of Essar, remain two of India's richest people, worth around $6 billion according to Forbes at the time of writing this article.
Krishan Kaushik of Caravan magazine is one of the few brave journalists in Indian media who dared doing a detailed article on the Ruia's. As the internal emails leaked by an Essar whistle-blower and Essar Tapes collectively show, the Ruia brothers have employed several dubious means to win favours. Not only had the company provided favours to numerous political leaders, bureaucrats and journalists, it had also indulged in espionage. In February 2015, Delhi police arrested executives of Essar for stealing sensitive government documents from the petroleum ministry.
The whistle-blower's emails indicate that Essar officials have been privy to a great deal of confidential government communication. The leaked documents attached to the emails include communications from the finance, coal, petroleum, environment, steel, railways and shipping ministries—all directly connected with prominent Essar businesses. One email even came with budget proposals from the petroleum ministry for the 2012–13 financial year attached.
The whole Essar Tapes case revealed that the company was possibly illegally tapping the phones of their rivals Ambanis, some key politicians, and even the senior bureaucrats including the PMO! [1] These tapes, far more damaging and explosive in content than the Radia tapes, received relatively little attention from the Indian media. This almost corroborates another Caravan story that talked about how Essar had given iPads and other gifts to a large number of key journalists, and how it controls media to plant favourable stories, and also tries to stifle any unfavourable ones – Caravan magazine is facing a Rs 250 Crore legal case from the mighty Essar for publishing these stories now. [2]
Essar Oil began in 1995 when the company issued an IPO to set up a refinery at Vadinar in Gujarat. Essar Oil claimed it would start the refinery by 1998, but a cyclone that year ravaged the coast of Gujarat, in turn delaying the project.
During the same year, there is an anecdotal claim of Ruia's helping the then BJP General Secretary Narendra Modi with party funds for Madhya Pradesh elections. In 1999, Essar, unable to meet its interest payments, was being hounded by several public sector banks, such as the State Bank of India and IDBI Bank. Instead of the restructuring initially demanded by the bank officials, they were given more funds, and a lease of life by public sector banks only due to political influence. At this point, they already had over a Billion dollars of personal wealth outside India. Yet, they used the political influence, and public sector bank loans to tide over the difficulties their companies were facing.
In 2001, after Mr Modi became the CM of Gujarat, he repaid these favours. A senior Essar executive told Caravan magazine that he remembered Modi calling state bureaucrats to instruct them to help the company, categorically declaring that Shashi Ruia helped the party. The former Essar employee recalled Modi's approach being, "'Here's a bureaucrat, here's Shashi's thing, now you talk among each other.' That also sends a message to the bureaucrat: Don't overstep."—that is to say, don't overstep Essar.[3]
In April 2002, the management informed the state government that construction would begin in June 2002 and production by November 2004, but the company faced further delays in clearances.
The refinery commenced commercial production in May 2008. It was upgraded to 20 million metric tonne per annum (mmtpa), or 400,000 barrels per day in 2012. Since FY08, Essar Oil's net sales climbed from Rs 652 crore to Rs 98,353 crore in FY14, and it swung back into the black with a net profit of Rs 126 crore in FY14 from a loss of Rs 42 crore in FY08. [4]
Finally, the persistence of the domestic investors in and various public sector banks and financial institutions in India who had shown faith and stuck with Essar all these years was to pay off.
However, the Ruia brothers had other ideas.
Essar had a rather complex holding structure. The company is ultimately run by Essar Global Fund Limited (EGFL), a Cayman Islands-based backer that the Ruia family control via a series of trusts and holding firms. EGFL is the holding company for more than fifty subsidiaries based in secrecy jurisdictions including Mauritius, Jersey and the British Virgin Islands. [5]
Essar Energy, the company previously listed in the UK, owned Essar Energy Holdings Ltd (EEHL), a company incorporated under the laws of Mauritius, being a promoter of the company, held 35.47 crore equity shares, representing 71.22% of the issued equity shares of Essar Oil. Public shareholders held 13.71 crore equity shares of the company, constituting 27.53% of the issued equity shares of Essar Oil.
In 2010, as Essar Energy was listing on the London Stock Exchange (LSE), Essar's own financial advisers JP Morgan warned investors of a "lack of clarity on the flow of funds between the UK unit and its Indian subsidiaries".
The share debuted at 420p on LSE. In June 2014, Ruias made a 70p-per-share offer, at 1/6th the IPO price, to take Essar Energy private. An offer, the minority UK shareholders (including a major pension fund) were forced to take. There is absolutely nothing illegal with the pursuit of the shares, yet the sheer ruthlessness and pressure exercised by the brothers in the process was ethically questionable.[6][7]
The Indian investors of Essar were also shocked when the company decided to de-list from BSE just when it had turned profitable after years of struggle.
The BSE De-listing
On 20th June 2014, just 10 days after their controversial de-listing of he parent Essar Energy from LSE, Essar announced its intention to de-list Essar Oil from the Bombay Stock Exchange (BSE) and go private. As it happens with such events, the stock price jumped from its Rs 100 levels and doubled by December, before the reverse book building was done for de-listing.
Reverse book building is a process where shareholders offer their shares at a price they think is right. At the end of the process, the company decides on a particular price and all shareholders who have offered their shares at that price or less tender their holdings to the company. Even during this phase, investors complained about lack of transparency in the company's stake sale talks with Russian oil major Rosneft. According to reports, the Ruias were in talks with the Russian company to sell a 49 per cent in the company at a price valuing the company at Rs 45,000 crore, much above the then market cap of Rs 29,700 crore. [8]
Thanks to price offered by LIC for its large stake, a price of 262.80 per share was fixed for the de-listing.[9] This price put the valuation of the company at Rs.38,000 crore, or $5.72 billion.[10] This is the largest de-listing of shares ever done in India.
Within 10 months after this delisting, Essar promoters, the Ruia brothers, struck a deal valuing the refinery nearly double the value at Rs. 72,800 crore ($10.9 Bn). What had the refinery done to deserve an extra Rs.34,800 crore ($5.18 Bn) in valuation?
The new valuation
Globally, the oil industry is stagnating. Oil prices have fallen sharply since 2014, with little prospects of a medium term recovery.
Rosneft is already a leader in oil refining in Russia. The Company owns 10 major refineries and several mini-refineries in Russia. In Germany Rosneft holds shares in four refineries with the capacity of 11.5 million tons (in terms of the Company share). Entering into refining business is not a new strategic path that Rosneft has just chosen, or was under any immediate compulsion to chose at this point.
This deal puts the Enterprise Value (EV) to around 12.5 times EBITDA (Earnings Before Interest, Tax, Depreciation and Amortization). Most analysts value Reliance Industries Ltd's refining business at an EV/EBITDA multiple of around seven times at best. Compared to its global peers, the deal makes Essar Oil's refinery the most expensive in the world. [11]
Why would the group led by Rosneft pay such a hefty premium for a refinery, in the current market? Its own financial situation after the $55 Bn deal to buy TNK-BP in 2013 has not been particularly healthy. It did not have cash in hand, and had borrowed $30 Bn from western banks for the TNK-BP deal, only to see Oil prices collapse in later half of 2014. Beyond the oil markets rout, U.S. sanctions in the wake of Russia's annexation of Crimea targeted Rosneft directly.[12] In fact, the whole company is now valued around $55 Bn, the amount Rosneft burnt over the TNK-BP acuisition. There is even talk of selling 20% of Rosneft to Indian and Chinese companies to raise cash in the order of $11 Bn. Why would a company in distress itself, make such an extravagant purchase ?
Further, if Rosneft has that much cash, and needs to buy more refineries for some reason, it could simply invest in other players for much lesser. For comparison, Valero Energy, that operates 15 refineries, and has a capacity of nearly 3 million barrels per day, 7.5 times more than this Essar Oil refinery, is valued at around $28 Bn. Rosneft's rival ConocoPhillips spun off all the refining business as Phillips66 a few years ago, and this company, operating 13 refineries with capacity of 2.2 million barrels per day, 5.5 times that of Essar, is valued at $42Bn.[13]
These valuations independently corroborate the EV/EBITDA comparison, and show that Essar Oil valuation is high. Why would Rosneft pay 25% of market value of Phillips66, or almost 40% of value of Valero, to just acquire a fraction of the refining capacity?
The Russians & Rosneft
When Mr. Putin became acting president in Dec 1999, Russia was already an oligarchy — indeed the oligarchs, a small group of men who had grown very rich in the preceding decade, were instrumental in picking Putin and installing him at the helm in the first place. But within months, he made the oligarchs an offer they could not refuse: give up all of their political power and some of their wealth in exchange for safety, security and continued prosperity, or else be stripped of all power and assets.
He meant it. Those who rejected the new rules, such as media mogul Vladimir Gusinsky, and uber-oligarch Boris Berezovsky, were forced into exile in the summer of 2000. When the richest man in Russia, Mikhail Khodorkovsky, refused any such bargain, he was jailed and his [14] Yukos Oil Company was broken into pieces and sold in dubious auctions with Rosneft seizing the most lucrative elements.
Since then, Mr. Putin has consolidated power into what some political scientists call "kleptocratic authoritarianism". Its essential characteristic is all-encompassing corruption, which makes all the moneyed men of the Russian elite profoundly interdependent. [15]
In 2010, US diplomatic cables suggested Putin held his wealth via proxies. The president formally owned nothing, they added, but was able to draw on the wealth of his friends, who now control practically all of Russia's oil and gas production and industrial resources. (Sounds Familiar?)
The Panama papers show a number of manoeuvres by the Putin circle to move cash offshore. They shine a particular spotlight on Sergei Roldugin, who is Putin's best friend. The transactions, include apparently fake share deals, with shares "traded" retrospectively; multi-million dollar charges for vague "consultancy" services; and repeated payments of large sums in "compensation" for allegedly cancelled share deals. In 2011 a Roldugin company bought the rights to a $200m loan for $1. Andrew Mitchell QC, a leading authority on money-laundering, told BBC Panorama :[16]
"This is not business, this is creating the appearance of business in order to continually move and hide assets"
Rosneft is run by Igor Sechin, another powerful longtime assistant of Mr. Putin. Sechin, who has been placed on the U.S. and the EU sanctions lists over the Ukrainian crisis, was seen as the mastermind behind the 2003 arrest of Russia's then-richest man, Mikhail Khodorkovsky.[17] Because of the US sanctions, Sechin is now subject to a freeze of all assets he holds in the U.S., and he is banned from entering the U.S.[18]
The chief executive of Russian lender VTB, which advised on the deal, has said it was specially structured to ensure it was not affected by Western sanctions. Rosneft will control a minority 49% of Essar under the deal, with two oil trading houses, Trafigura and Moscow based United Capital Partners (UCP) jointly holding another 49%. The structure is just a facade to avoid sanctions, and clearly, Rosneft is the real acquirer. It is the only company amongst these three with any experience or a possible business interest in running a refinery for a long term. This raises questions about whether UCP and Trafigura will cede their shares to Rosneft once sanctions are lifted or eased. With the lack of transparency on the internal dealings between Rosneft and its partners, one can only speculate that Rosneft has entered into some forward dated contract to acquire the stake on some undisclosed terms that would be exercised IF and when the sanctions are lifted. [19]
UPC's President, Ilya Sherbovich, also has strong links to the Kremlin and sits on the board of directors of Rosneft. UPC acquired VKontakte, the Russian equivalent of Facebook, under very suspicious circumstances in April 2013. VKontakte's founder, Pavel Durov, once called Russia's Mark Zuckerberg, was declared as a suspect in a hit-and-run incident by Police. The following day, it was announced that Durov's business partners, who owned 48 percent of the company's voting shares, had sold them to United Capital Partners. This whole episode happened after Durov took a principled stand on not curbing the activities of Putin's opponents on his social network. [20] [21]
It is no surprise that US diplomatic cables on Wikileaks said that Russia has become a virtual "mafia state" with widespread corruption, bribery and protection rackets. There was no differentiation between government and organised crime. [22]
So, if you had just read the Outlook or Caravan articles on how unethical and dubious our own crony loving politicians and Ruia brothers can be, the other party to the deal, our brothers from Russia are a step further.
Indian acquisitions in Rosneft
Over the past few years the public sector Indian oil companies have made several investments into Rosneft's oilfields.
In Sep 2015, ONGC Videsh Limited (OVL) agreed to buy a 15% stake in Vankor, one of Rosneft's fields, reportedly for $1.284Bn.

[23]

In March 2016, A consortium of Oil India, Indian Oil Corp and Bharat Petro Resources (BPRL), a unit of Bharat Petroleum Corp, bought 29.9% stake in Rosneft's Taas-Yuriakh field for around $1.7Bn.

[24]

In June 2016, Oil India Ltd., Indian Oil Corp. and Bharat Petro Resources Ltd. agreed to buy a 23.9% stake, reportedly at $2.02Bn in Rosneft OJSC's Vankor project.

[25]

In Sep 2016, ONGC agreed to buy additional 11% stake in the Vankor oilfield for $0.93Bn. 

[26]

[31]
The precise amounts for each deal have not been made public yet, and those cited above are based on what was reported by the media. This "reported amount" is around $6Bn in total.
Were these all done at a fair valuation of the assets, or were public sector firms forced to pay more as a quid pro quo in order to facilitate Essar Oil's purchase at a higher price? After the forced takeover of the debt-laden GSPC by he public sector ONGC recently, this will no longer be an outrageous question to ask.
In fact, British Petroleum just paid $750 million for 20% stake in Taas-Yuriakh just in 2015, [27]whereas our oil firms were made to pay $1.242 Bn for the 29.9% stake + $180 million extra for "capital expenditure" as per the reports. The achieved evaluation of Taas-Yuriakh Project is $2.7 per barrel of hydrocarbon reserves 1in terms of 2P category using PRMS method , and our Oil firms have paid $3.4 per barrel for the Vankor field.[28][29]
To put it simply, our public sector oil firms have potentially paid 30-60% more than that paid by BP for the Tass-Yuriakh field, and then, on value per barrel of reserves basis, a further 25% more for the nearly 50% stake in the Vankor field. All this happened in a bear market, with oil prices falling.
Possible explanations
With this background of Russian kleptocracy, and Ruia brothers own reputation in India and the UK, we can think of the following possible explanations for what has happened:
This is all clean, there is nothing sinister, despite the past reputations of the parties involved. Rosneft was simply interested in a long term investment in India, and did not find the price to be high.
There is a foul play, but only to the extent of laundering Russian Black Money into offshore assets in western financial system, with Essar deal acting as conduit.
There is a foul play, only on Indian side:

Indian Oil companies have been forced to buy Rosneft assets, possibly at a slight premium to help Ruias' deal, who have been close to the politicians, and bailout the banks. 

[30]

The overvaluation is a result of some accounting trick for inflation of Essar Oil liabilities and working capital that will be done by Ruias in order to pocket the gains, and not share them.2

There is a foul play on both sides – Indian public money was forced to be paid to Rosneft, to facilitate the Essar Oil takeover and help the Ruias and the banks, and some Russian Black money is being laundered via this too, with paybacks for both Russian and Indian politicians in the process.
Only time will tell, watch this space.
Standard Disclaimer (;): This is a work of fiction. Names, characters, businesses, places, events and incidents are either the products of the author's imagination or used in a fictitious manner. Any resemblance to actual persons, living or dead, or actual events is purely coincidental.
References