Shortcomings of SIT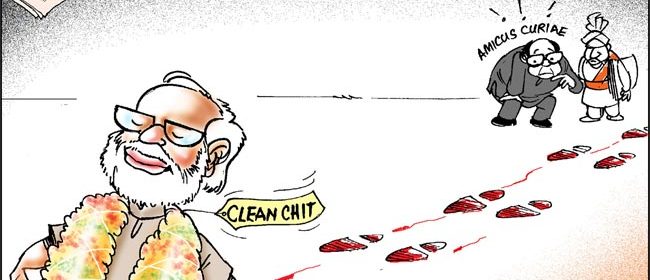 Summary
SIT Investigations have failed to establish a "Chain of Responsibility" amongst the Sangh Parivar culprits. For instance, we still do not know why ministers at Police control room were in touch with Jaydeep Patel during the riots, who was in touch with Babu Bajrangi and Maya Kodnani.
If we read Modi's answers to SIT, it also becomes clear that he is not being challenged, there are no follow up questions, no cross examination of his claims.
Here is a list of such shortcomings, each discussed in detail in the pages below.
Some other such contradictions and errors between the two versions of SIT itself have been listed here.
Haren Pandya Testimony to the CCT
SIT falsely assumed a claim to have been made by Pandya, and then used it to discredit his testimony to the CCT.
Page 458 of SIT report says:
"Haren Pandya had misled the Concerned Citizens Forum …that he was present in the meeting called by the chief minister at his residence on the night of 27-02-2002 with a view to increase his credibility"
Haren Pandya informed Justices Krishna Iyer,Concerned Citizens Tribunal (CCT) about 2 meetings.[1]
Modi with senior police officers at his Gandhi Nagar residence.

In Sabarkantha, where 50 Sangh leaders (including some state BJP leaders) met and allegedly decided on stocking up kerosene and petrol etc.
Did Pandya claim to have been present at either of these meetings?
Here is the relevant portion from Mr. Pandya's testimony about the second meeting (Sabarkantha). He talks of phone calls to 50 people of sangh parivar.
The phone calls were made to invite 50 top people of the BJP/RSS/BD/VHP and the plan was to assemble them at someone's house in Lunavada (Sabarkantha). Fifty top people, the Tribunal was told, met at this undisclosed destination and detailed plans were made on the use of kerosene, petrol for arson and other methods of killing. The state intelligence did not or could not track such meetings and preparations for the gruesome violence that was to follow.
In the Tehelka tapes, Babu Bajrangi had admitted collecting petrol and 20 odd guns overnight, so this adds up, at least circumstantially.
Also,there is no claim of having been present. In fact, the usage of "at someone's house" suggests he was not present in this alleged meeting.
The relevant section (Section 1.7 on Page 82 of the CCT report) about Pandya's comment on the other meeting, just says "two or three cabinet colleagues".[2]
1.7. The Tribunal received direct information through a testimony from a highly placed source of a meeting where the chief minister, two or three senior cabinet colleagues, the CP of Ahmedabad, and an IG police of the state were present.
As we now know, this "highly placed source" was Haren Pandya. However, there is no claim made by Pandya about being present at all. If anything, this indicates that he was not present. If he had been present, he would have the precise number of ministers, right? Why would he say "two or three" senior ministers?
It may also be noted that Pandya was not close to Modi, it is very unlikely that he would be invited to such a meeting.
So, why has SIT falsely assumed a claim to have been made by Pandya, and then used it to discredit his testimony to the CCT?
It is not as if SIT has not read the CCT report properly. SIT devotes full three pages (p453-p455) listing all negative references to Haren Pandya in the CCT report.
Why go out of the way to discredit a dead man, and do his character assassination? Haren Pandya was no saint of secularism, but he was long dead and not under investigation by SIT. The issue at hand was to examine and investigate his statements to CCT. This shows some degree of blatant bias by the SIT.
Handing over the dead bodies to the VHP
SIT's conclusions on handing over the dead bodies are self-contradictory, reflecting the shoddy nature of probe into this crucial aspect.

Further, it concludes no wrong was done, and yet recommends action against the lowest level officer with no powers to take decision .
At Godhra
Both Modi and  Patel were present in a meeting at DM's office. (Page 20 2010 SIT report)
Jayanthi Ravi has stated to SIT that in the meeting held at Collectorate. one Shri Jaydeep Patel, a VHP activist, was also present.
Isn't it extraordinarily unusual, that no explanation whatsoever is saught by SIT about the presence of an non-governmental person, a major accused in a riots? What was Jaydeep Patel doing there? Why was he privy to the decisions supposedly taken at the highest level?
The local Mamlatdar, Mr Nalvaya, meticulously produced a letter noting down the details of the dead bodies, addressed to Jaydeep Patel, indicating that VHP was given custody of dead bodies.
In fact, SIT itself says, page 464, (2012 version, the final closure report)
Shri Hasmukh T. Patel of VHP had acknowledged the receipt of dead bodies.
At the Sola Civil hospital, Ahmedabad
p467 (Final Closure report 2012)
"At Sola Civil Hospital, .Shri Jaydeep Patel handed over the letter to the hospital authorities and the locaI police as well as the hospital authorities took charge of the dead bodies"
So, the VHP acknowledged receipt of bodies, SIT itself says VHP handed over the letter along with the bodies to the hospital authorities.
SIT's Conclusions
Still, interim SIT Report said that "allegation that the dead bodies were handed over to Jaydeep Patel, is also not established", and he  "merely accompanied the bodies" (Page 23 2010 SIT report)
SIT: No Crime, and a Punishment?
There is also a recommendation of taking action against this Mamlatdar.(p 467)
Shri M.L. Nalvaya, Mamalatdar had acted in an irresponsible manner by issuing a letter in the name Shri Jaydeep Patel in token of having handed over the dead bodies, which were, case property, and ,therefore, the Govt. of Gujarat is being requested to initiate departmental proceedings against him.
In the 2010 Interim report (p24), this was worded "deserves to be dealt with through strong departmental action".
If SIT itself says that Jaydeep Patel merely accompanied the bodies, what is the need for action against the Mamlatdar?
The SIT says the decision to shift the bodies to Ahmedabad was taken after a closed-door meeting between Jayanti Ravi, Jaydeep Patel, health minister Ashok Bhatt, civil aviation minister Prabhatsinh Chauhan, Gordhan Zadaphiya and Modi. But bizarrely, when it comes to the question of who decided that the bodies should be handed to the VHP, the SIT hauls up the Mamlatdar, ML Nalvaya, who wasn't even present at the meeting.
Why would a Mamlatdar meticulously prepare a list the dead bodies and the 4 trucks and record the detail of which truck each body is going to? Is it believable at all that a junior officer can take such a big decision to transfer bodies to the VHP, in presence of a DM and several ministers? Even if we assume that he was the culpable party, handing over the bodies to VHP on his own accord, why would he create a documentary evidence for it, instead of covering his tracks?
The Amicus Curiae also made the same observation on the interim SIT report of 2010. These objections have still not been addressed in the final 2012 closure report.
Observation made by Ld. Amicus Curiae:
Another aspect is the fact that – VHP General Secretary Jaydeep Patel and 'Shri Modi were at Godhra on ,27-02-2002. The statement of Jaydeep Patel that he did not meet Shri Narendra Modi at Godhra does not inspire confidence.

This has to,be examined as the Mamalatdar could not have handed over the dead bodies to a non-government person i.e. Jaydeep Patel until and unless somebody very high told him to do so.
Mystery of missing Police Records
If Modi really had a clear conscience, and nothing to hide, why would his Government show unusual haste in destroying crucial records from the riots period, while many cases were still sub judice?

Why would some of the records reappear miraculously within a month of Supreme Court talking of starting an action?
2010 SIT report mentioned that it was told records from 2002 had been destroyed. On page 13, the report states:
Though, this enquiry had the mandate of the Hon'ble Supreme Court of India, several difficulties/constraints were experienced in the enquiry, some of which are given below
(1) The police wireless messages for the year 2002 were not made available by the Govt of Gujarat as the same had been reportedly destroyed

(2) No record/documentation/minutes of the crucial law & order meetings held by Govt. during the riots had been kept

(3) Some of the public servants who had retired long time back, claimed loss of memory as they did not want to get involved in any controversy…"
However, some of the Police records, mysteriously reappeared on Apr 23, 2011.[3]
This was soon, and only after Supreme Court asked SIT to investigate the charges of destruction of records further in March 2011! This reappearance itself was also hidden from everyone initially and only communicated by SIT chief to one of the activists during a discussion on further action over missing records.(?!)
"In a curious but potentially far-reaching development, PC Pande, who was commissioner of Ahmedabad during the 2002 carnage, is learnt to have submitted over 3,000 pages of scanned copies of those records before the Supreme Court-appointed special investigation team (SIT).

This change followed the Supreme Court's order on March 15 directing the SIT, headed by former CBI director RK Raghavan, to conduct a further probe on the alleged complicity of the Narendra Modi administration in the riots because of a mismatch between its findings and inferences.

Pande, like other officials, had earlier maintained before the SIT that many of the police records were unavailable as they had ostensibly been destroyed due to the passage of time. The officials could never give a plausible explanation for not preserving the documents that could have a vital bearing on the criminal investigations, trial proceedings and judicial inquiries related to the 2002 violence."
And, even more curiously, the police records turned up in the hands of PC Pande, who had served as Ahmedabad Police Commissioner during the time of the riots, but had subsequently retired. Precisely how this important bit of evidence turned up in the hands of a retired bureaucrat hasn't been sufficiently explained.
There was also case for the SIT to have taken action against Pande for withholding evidence from a Supreme Court-appointed commission, as he had previously claimed these had been destroyed.
The final 2012 SIT report does NOT question any of these aspects, which is clearly very unusual and suspicious. These were reported to be "3,000 pages of scanned copies of those records", and SIT does not say anything about having verified them for authenticity or indeed completeness.
A few months later, in June 2011, Gujarat attorney general SB Vakil informed the Nanavati commission that Police call records of the 2002 period had been destroyed.[4]
Government lawyer SB Vakil told the Nanavati panel probing the riots that some records relating to the riots had been destroyed according to the rules.

"As per general government rules, the telephone call records, vehicle logbook and the officers' movement diary are destroyed after a certain period," Mr Vakil was quoted as saying by the Press Trust of India news agency.
Again, there is no demand for an explanation, or prosecution by Nanavati commission for the destruction of these crucial records.
It is said that "Absence of evidence is not evidence of absence!". But, isn't destruction of evidence, an evidence of Malafide intent, and possibly guilt ?
References
2.
What Did Justices Krishna Iyer, PB Sawant and Suresh say about the role of Modi in 2002? 2012.
People's Union for Civil Liberties
. February 17.
[Source]