Modistan – A Survival Guide for opposition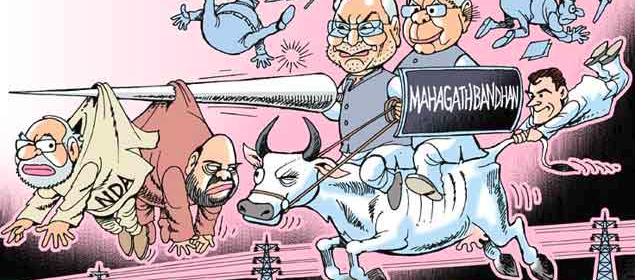 While BJP Juggernaut may look unstoppable, so did Congress in 1977, and NDA in 2004. Opposition needs to learn from those examples.
BJP won an impressive victory in 2014 Lok Sabha elections on promise of "Sabka Saath, Sabka Vikas", action against black money stashed abroad, creation of 2 crore jobs every year and tough action against all politicians with any criminal/corruption cases. For the first time since 1984, Indian electorate had given a full majority to a single party in Lok Sabha. The urban middle class in particular, had very high hopes of unleashing of a second round of massive economic reforms.
Alas, the government with 282 MPs has been able to do far fewer transformative and revolutionary changes to the Indian economy than what even the minority government of Narasimha Rao with 242 MPs had achieved. The few good things that have been done are either things that BJP itself had blocked earlier, or incremental improvements to schemes of previous UPA government that it had opposed previously. As if this lacklustre economic performance wasn't bad enough, Mr Modi unleashed a man-made disaster in the form of DeMonetisation on the poor people of India.
However, the worst failure is yet to be discussed. India has seen economic mismanagement in the past, and is resilient enough to bounce back from it. There is something more dangerous and sinister that threatens the very Idea of a plural, secular India, and poses an existential threat to our nation – it is the majoritarianism ideology of Hindutva. Make no mistake, as a nation we are perilously close to being totally consumed by a Fascist dictatorship that will destroy all institutions, destroy all questioning, opposition, and try to impose its own non-plural ideology on all Indians.
A horde of lobotomised zombie trolls (more popularly known as Bhakts) has been created, who dissipate the hoaxes and propaganda they receive on their WhatsApp and Facebook feeds everyday, and have been sufficiently brainwashed with jingoism to run madly in pursuit of everyone labelled as enemy by the Sanghi propaganda, just as an enraged bull runs towards a piece of red cloth. These people do not care about India, they just care about Modi. Vigilante groups lynching people to death is just the tip of the iceberg. A large number of supposedly educated people justifying it, or numbed enough not to care about it, shows us the spread of the cancer we are dealing with. A New India is being created, and it is not a pretty sight.
With vast swathes of population infected by acute cases of Bhakti, opposition in disarray, cronies enjoying reliefs on bad loans, and a big share of the pie in lucrative defence deals, and a corporate media more interested in serving their crony masters than asking the tough questions of the government on its failures, the situation looks very gloomy indeed. Never before have I seen India so divided. Never before have I felt India faced an existential threat.
So, what is the way out? First let us understand what the fascists are up to.
BJP's Gameplan
It is clear after the UP elections that even the pretence of "Vikas" is gone, Hindutva will be BJP's plank in 2019. In UP, both BJP and Yogi's Hindu Yuva Vahini have started a social engineering experiment very recently, and expanded their appeal beyond the traditional support base of Upper caste Hindus, and gained support from large number of Non-Yadav OBCs and Non-Jatav Dalits. This was primarily achieved by engineering some defections from BSP, and giving some prominence to OBC leaders before the elections.
However, we must remember that even Mayawati had tried a Brahmin/Dalit combination during 2007-12. While it looked unbeatable for a while, the old caste sentiments eventually prevailed.
BJP has already relegated several key leaders from the backward classes after the elections. So, how is it planning to keep its grouping together?
The answer is there for all to see. Its plan is to unleash extreme Hindutva agenda, to polarise the Hindus, exploit their feelings against Muslims, in order to keep its own support base angry and united. Thus far, this has manifested itself in the form of actions against Meat slaughter and minority youth.
I strongly suspect the Ayodhya issue shall be raked up sometime before 2019, with the hope of it polarising the Hindus, and make them forget all the other failures and Jumlas of the Modi government.
On the other hand, via its enormous control over large sections of media, and its IT cell's fake news and propaganda sites, plus enormous reach in social media (notably WhatsApp and Facebook), BJP can continue to spread lies against opposition very easily. These typically include:
Personal attacks on Congress's leaders (past and present) via propaganda- mainly Nehru, Gandhi, Sonia and Rahul Gandhi aggressively.
Launch a non-stop smear campaign against any potential rival opposition leader who appears threatening – Kejriwal, Tharoor, Laloo Yadav, Digvijay Singh, Nitish Kumar, Sharad Pawar, Yechury, Mamta Bannerji or Capt Amrinder Singh.
Try to sabotage any alliances.
Constantly try to engineer defections by threatening/blackmailing or outright buying support of any influential opposition leaders who can be bought.
Keep opposition busy with either fighting amongst each other, or defending some random issue or the other raised via its media chamchas.
Whitewashing of BJP/RSS Image, by distorting the cases against Amit Shah, RSS operatives etc, as a UPA conspiracy.
Between now and 2019, BJP will spare no effort in trying to break AAP and INC. The cadres are a bit demoralized after some recent setbacks, and the opportunistic among them may now fear about their long term prospects. This creates a happy fishing ground for Amit Shah and his coterie of goons. No effort will be spared to break these rivals.
Should they survive this onslaught by some miracle, prospects do not look good for opposition at the moment.
What is the way out for opposition?
What is the strategy that works?
Two elections since 2014 have shown what needs to be done to beat Modi/BJP. Despite the propaganda blitz from sympathetic media, and false news spread by BJP IT cell's websites and whatsapp groups, 60-70% of India is still not pro-BJP. I doubt Modi has actually made many new Bhakts since 2014, he may have surely lost a few due to Notebandi, and a few more with the Beef politics and the lack of Vikas. The elections such as UP, where the remainder 60% were split about whom to vote, is where BJP routed all of them. In elections such as Delhi or Bihar on the other hand, when this 60-70% non bhakts had a viable single option, BJP lost badly.
Basically, BJP now has a dedicated voter base of at least around 20%, and a floating base of around 10%. In any 3 horse race, it is always going to be a strong contender, in any 2-horse race, it will always struggle.
But, with the opposition so hopelessly divided, how can we make 2019 elections a two-horse race ?
Flashback to 1977.
Indira Gandhi was disqualified by Allahabad HC over misuse of vehicles and some IAS officers during her campaigning, (Yes! these days you get away with lying about your marriage and degrees!) and imposed an emergency. Most of the opposition leaders were in jails. There was censorship on the media. There was no social media to spread the message across. People were angry, but had little hopes, as the opposition was scattered.
Enter JP.
Jaiprakash Narayan, the veteran socialist leader, united the opposition, brought Charan Singh's Lok Dal, Vajpayee's Jana Sangha, and Moraraji Desai and Jagjivam Ram together. All they do is, unite. Just Provide a clear and viable alternative to the 60% who do not want to vote for Congress.
Result? Congress is routed in UP and Bihar. They lose the 1977 general elections.
Can this be repeated now? Of course it can. We only have to look at example of Bihar. BJP+LJP had 36% vote share in 2014 Lok Sabha polls, and won 31 out of 40 seats. Laloo's RJD (20%) and Nitish's JDU(16%) had less than 20% vote share each and where routed (along with Congress with 8.5%). But when they, fierce rivals in the past, forgot their differences, and joined hands to beat Modi, it worked. Their combined vote share of nearly 42%+ was easily great enough to give BJP its greatest drubbing in recent times. The Mahagatbandhan won 178 out of the 243 seats, and NDA was reduced to just 58 seats.
Had BSP joined the SP+INC Gatbandhan in UP, the story could have been repeated, their combined voteshare of nearly 50% would have easily beated BJP with 39% vote share. But this requires people like Mayawati to first realise what is at stake. To realize that her personal ambitions are anyway threatened, should BJP remain in power. To have any future in Indian politics, you need to survive first.. and you can only survive if you defeat BJP in 2019.
Even if there is a "Maha-Gatbandhan" in just UP and Bihar, with RJD+JDU+INC, SP+BSP+SP+RLD, this alone could lead to a rout of BJP, a swing of -90 seats just in these 2 states. Similar coalitions in other places (Maharastra etc) can deal a fatal blow to BJP.
INC's Position
There is a great deal of despair about Congress (INC) lead by Rahul Gandhi. Except for Bihar, where his strategy of joining the Mahagatbandhan paid off, and some gains in Punjab and Goa, at a first glance, Congress seems to be in a bad shape. Can the grand old party of India be still revived?
One has to first study how, in our first-past-the-post system of voting, swings in vote share can get amplified into a much wider swing in seat share. 2014 was the nadir, the lowest point, in INC's history, when it won an all time low of 44 Lok Sabha seats. However, it still polled around 20% of the votes, around the same vote share that BJP had merely 5 years earlier in 2009. There were 189 constituencies where BJP and Congress were the top two vote getters; and the BJP won 166 of them.[1][2]
At its all time peak in 2014, BJP polled 31% votes. Should there be a swing of 5-6% away from BJP towards INC, we could see both major parties at an equal level of around 25% vote share, and perhaps at around 150-160 seats. In fact, in most recent assembly polls, even where it has won, BJP vote share was already 3-5% below that in 2014 Lok Sabha. However, an analysis of the 2014 results also showed us that the seats BJP won, it won them big, and by handsome margins. So, while any vote share swing away from BJP will help opposition, this alone cannot help a fragmented opposition to defeat BJP.
With 20% vote share, INC still needs to be a part of any national level coalition for Lok Sabha. They were also the second biggest party in 228 constituencies. No matter how frustrated many of us may be with them, INC need to be a part of any equation that stops BJP juggernaut.
Position of other opposition parties
This is no longer about whether AAP, BSP, CPI, JDU, RJD, SP, NCP or TMC can survive.
If Modi wins in 2019, he and Amit Shah will use their dubious and devious means even more boldly to destroy the opposition in India completely. We have already seen various examples of these in the form of defections engineered from INC, BSP and several such rivals. Amit Shah has also used CBI to harass opponents not falling into line. Modi and Shah can go to any extreme to get the rivals out of the way. One only needs to see what they did to their rivals within Gujarat BJP, such as Haren Pandya, or Sanjay Joshi to understand their true nature.
This is about survival of India, its democracy now.
Forget whatever other non-BJP party you support, if Modi wins in 2019, even the 130 year old Congress's existence will be severely tested like never before. No matter which party you support, even if you support BJP, keep this in mind, we need a healthy opposition for our democracy to survive. Unchallenged dominance only gives birth to tyranny and dictatorship.
A BJP win in 2019 means further erosion of our institutions. Once they have destroyed INC what chance do others have?
Here is a table of the Vote shares of non BJP parties in 2014 Lok Sabha, the peak of Modi popularity, and enormous anti-incumbency against UPA.
Vote Shares from 2014 Lok Sabha Polls

| # | Party | Group | Total Contestants | Won | Second | Third | Valid Votes % |
| --- | --- | --- | --- | --- | --- | --- | --- |
| 1 | Bharatiya Janta Party | NDA | 428 | 282 | 54 | 78 | 31.30% |
| 2 | Indian National Congress | | 464 | 44 | 224 | 66 | 19.50% |
| 3 | Bahujan Samaj Party | | 503 | 0 | 36 | 109 | 4.20% |
| 4 | All India Trinamool Congress | | 131 | 34 | 3 | 7 | 3.90% |
| 5 | Samajwadi Party | | 197 | 5 | 31 | 33 | 3.40% |
| 6 | All India Anna Dravida Munnetra Kazhagam | | 40 | 37 | 1 | 2 | 3.30% |
| 7 | Communist Party Of India (MARXIST) | | 93 | 9 | 30 | 9 | 3.30% |
| 8 | Independent | | 3235 | 3 | 9 | 20 | 3.10% |
| 9 | Telugu Desam | NDA | 30 | 16 | 8 | 6 | 2.60% |
| 10 | Yuvajana Sramika Rythu Congress Party | | 38 | 9 | 17 | 0 | 2.60% |
| 11 | Aam Aadmi Party | | 432 | 4 | 9 | 47 | 2.10% |
| 12 | Shiv Sena | NDA | 58 | 18 | 2 | 0 | 1.90% |
| 13 | Dravida Munetra Kazhagam | | 35 | 0 | 27 | 6 | 1.80% |
| 14 | Biju Janata Dal | | 21 | 20 | 1 | 0 | 1.70% |
| 15 | Nationalist Congress Party | | 36 | 6 | 17 | 4 | 1.60% |
| 16 | Rashtriya Janata Dal | | 30 | 4 | 22 | 2 | 1.40% |
| 17 | Telangana Rashtra Samithi | | 17 | 11 | 2 | 1 | 1.20% |
| 18 | Janata Dal (United) | | 93 | 2 | 4 | 30 | 1.10% |
| 19 | Communist Party Of India | | 67 | 1 | 6 | 11 | 0.80% |
| 20 | Shiromani Akali Dal | NDA | 10 | 4 | 3 | 3 | 0.70% |
| 21 | Janata Dal (Secular) | | 34 | 2 | 2 | 17 | 0.70% |
| 22 | Indian National Lok Dal | | 10 | 2 | 3 | 5 | 0.50% |
| 23 | Lok Jan Shakti Party | NDA | 7 | 6 | 1 | 0 | 0.40% |
| 24 | All India United Democratic Front | | 18 | 3 | 0 | 4 | 0.40% |
| 25 | Desiya Murpokku Dravida Kazhagam | | 14 | 0 | 1 | 13 | 0.40% |
| 26 | Jharkhand Mukti Morcha | | 21 | 2 | 1 | 2 | 0.30% |
What the table above shows is that a Mahagatbandhan of INC,BSP, SP, RJD,JDU and NCP would have possibly beaten BJP even in 2014. Unless Modi succeeds in engineering wide scale riots and polarises Hindu votes again, BJP vote share is only likely to slip by a few percent in 2019.
Any party fighting it alone, and not joining a Mahagatbandhan is likely to be worse off, as BSP Vote share numbers clearly shows us. Despite having a 4% vote share, and nearly 20% across many seats in UP, BSP ended up with zero seats. If there was a Mahagatbandhan with SP and INC in 2014, they would have won at least 60 seats out of 80, and BSP would have potentially had at least 20-30 of them.
What should be the Gameplan for opposition?
Don't waste time and energy fighting each other. You do not have to agree on every thing on Day 1. But, at least agree that you all want to defeat this threat to India, and start generating goodwill towards each other. If you can't do that, at least stop being to nasty towards each other.
Start putting up a joint front – Get key media owners back on your side – Even Mr Ambani eventually cares about his own profits, once he sees a viable opposition forming, his channels and media houses will start changing their tone. They cannot afford to take the risk of earning the ire of a strong challenger. Right now, they do not see a challenger. Do something to start appearing like one.
Don't let Modi set the agenda. You pick up what issues you want to fight on. Don't give unwarranted publicity to media noise over the other distractions. BJP and its media partners would like to drag you into controversies over the inconsequential issues, where the typical liberal stand may be too difficult to explain easily, and unlikely to be as popular with the masses as nationalistic or religious jingoism. Focus on the key failures of Modi Sarkar:

Demonetisation
Economy, Lack of Jobs
Failures of foreign policy in Nepal, Pakistan
Scams such as GSPC, Rafale, Sahara Diaries case.
Security failures.

Counter-attack on social media. Don't be lazy. If BJP IT cell can spread its graphics, memes and jokes that spread its propaganda, so can you. There are thousands of people on social media fighting BJP/Modi in their personal capacity without any affiliation with any party, and without any financial gains. Help such people in any way you can. Until recently, in author's experience, only AAP had some pugnacious presence in social media, most other parties were absent from it. INC appears to be catching up now, but we need other regional parties to join in, and help all secular voices.
So, in summary, do not despair, start your fight.
References