Haren Pandya's murder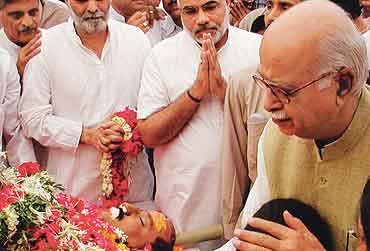 It is almost certain that the investigation to find Pandya's killer was DELIBERATELY botched up.

Why would a former Home Minister's death be treated so shabbily that even fundamentals of the investigation were incorrect?

What was the motive? Who benefited the most due to Haren Pandya's murder just before he was to move to an influential position in BJP's National executive?
Background
Haren Pandya, a tall and handsome Brahmin with a fine RSS pedigree, 43, was a young rising star for BJP in Gujarat. A mechanical engineer, Pandya joined active politics in 1992 and won the Assembly elections from Ellisbridge constituency by a margin of 42,000 votes, and maintained his strong hold on this constituency in 1995 and 1998 elections, winning by good margins. Even when BJP was facing a decline in 2001 in Gujarat, Ellisbridge was considered a "safe" BJP constituency.
Pandya rose to become CM Keshubhai Patel's right hand man, and the Home minister of Gujarat during 1998-2001.
Modi, meanwhile, was "exiled" from Gujarat by the BJP leadership for his role in the Keshubhai-Waghela spats, and sent to Delhi to work as a national secretary. He used this opportunity to increase his profile with media, and launch a campaign against his former friend Keshubhai, and started lobbying for the post of Gujarat CM, especially after the 2001 earthquake.[6]
When Narendra Modi was sworn in as the CM in Oct 2001,Haren Pandya was sidelined. He was seen as being close to the rival Keshubhai, and was initially not given any ministry. Later, when Modi expanded the cabinet, Pandya was appointed as Minister of state for revenue.
The Rivalry
The two clashed publicly for the first time in Feb 2002, when Modi was in search of a safe assembly seat to contest after his appointment as CM. He† wanted to contest the elections from Pandya's constituency, Ellisbridge in Ahmedabad—a very safe seat for the BJP. But Pandya refused to yield to Modi's wishes, and Modi had to contest from Rajkot instead.
During May 2002, three months after the start of the riots, Pandya secretly gave a deposition to an independent fact-finding panel – Concerned Citizens Tribunal (CCT), led by Justice VR Krishna Iyer.
This was leaked to the media, most notably, 2nd June 2002 issue of outlook had an article titled "A Plot From The Devil's Lair", which said:
Information with Outlook shows that a senior minister from his own cabinet has blown the whistle on Modi. Last week, the minister deposed before the Concerned Citizens Tribunal headed by former Supreme Court judge Justice Krishna Iyer.
On 7 June 2002, Modi's principal secretary, PK Mishra, instructed the director-general of state intelligence, B Shreekumar, to track Pandya's movements, as he was suspected to be the minister who has talked to CCT. Five days later, on 12th June 2002, B Shreekumar confirmed to PK Mishra that it was indeed the case.
On 4 Aug 2002, party president Rajendrasinh Rana issued a show-cause notice to Pandya asking him to explain why he deposed before a Citizens' Tribunal on the violence.
On 6 Aug 2002, Haren Pandya resigned from Gujarat Ministry (rather, was asked to quit).
On 19 Aug 2002, Outlook published another interview with an unnamed Minister of Gujarat to confirm some of the details of the previous leak.
This minister, later confirmed to be Haren Pandya, had asked that his identity not be revealed, saying "I will be killed".
Modi was not finished just with Pandya's resignation from the ministry. The state elections were due in December 2002, Modi denied Pandya the constituency he had represented for 10 years.The leadership of both the RSS and the BJP objected and asked Modi to relent, but he reported having chest pains, got himself hospitalised for 2 days in the UN Mehta hospital, and did not take any calls. Finally, the party leadership gave in to Modi's shenanigans, and got Haren Pandya to not contest in Gujarat Polls on Nov 24th.
Modi was discharged from the hospital the same day. Next day, Bhavin Shah's name was announced as the candidate.
Senior BJP figures, who still regarded Pandya as a valuable asset to the party, and had reportedly offered him a Rajya Sabha seat too, decided to transfer him to headquarters in Delhi as a member of the national executive.
On 26 March 2003, the day after Pandya received a fax from the party president ordering his shift to Delhi, he was murdered in broad daylight, in Ahmedabad.
Round up the Usual Suspects
The Gujarat police and the Central Bureau of Investigation (CBI) announced that Pandya had been assassinated in a joint operation between Pakistan's Inter Services Intelligence, Lashkar-e-Taiba, and the Dubai-based underworld don Dawood Ibrahim.
Twelve men were arrested and charged with Pandya's murder, but eight years later, in September 2011, the Gujarat High Court acquitted every single one and rubbished the entire case.
"The investigation has all throughout been botched up and blinkered," the judge said. "The investigating officers concerned ought to be held accountable for their ineptitude resulting into injustice, huge harassment of many persons concerned and enormous waste of public resources and public time of the courts."
Pandya's father, Vithalbhai, has publicly accused Modi of ordering his son's killing. Vitthalbhai was inconsolable when Modi called on him, accompanied by NSG commandos. He even refused to let Modi garland his son's dead body.[11]
"What is the big deal in coming here with these gunmen? Why have you come here? We don't need any sympathy. Please go away. Don't even touch my son's body. You could not protect my son, how will you provide security to the five-crore people of Gujarat?" he told Modi
So embittered was Vithalbhai that despite being a lifelong RSS man himself, he even contested the Gandhinagar Lok Sabha against LK Advani.
The Murder
(Credit: Sankarshan Thakur article [10], much of this section taken verbatim from it)
As per the prosecution's case, Pandya had gone to Law Gardens for a walk, as usual. As he parked his car at 7:40am, Asghar Ali approached his car and shot him five times through a three-inch opening in the pane on the driver's side. Asghar's recruitment for the job was part of a plot hatched by Muslim elements — among them Mufti Sufian, rabble-rousing cleric of Ahmedabad's Lal Masjid — that wanted to avenge the post-Godhra carnage.
The CBI wrapped up investigations in less than six months and filed its chargesheet on September 8, 2003. The cornerstone of its case was a single eyewitness to the murder, a Law Gardens sandwich vendor called Anil Yaadram, who claims to have been present at the time of Pandya's shooting and who identified Asghar Ali as Pandya's assailant.
Yaadram, the lone eyewitness, says he was too dazed by what he saw to even move from the spot for an hour. when he does move; he informs not the police but his seth, a local businessman called Snehal Adenwala. Adenwala does not inform the police either, although he knows the man lying dead in the Maruti 800 in the Law Gardens parking lot is Haren Pandya; he calls Pandya's associate, Prakash Shah, and tells him instead. Shah, too, does not call the police. He calls Pandya's secretary Neelesh Bhatt, who is at Pandya's house, already worrying about why his boss is late returning. It is then that Bhatt rushes to Law Gardens, locates the car and opens it to find his boss repeatedly shot.
This is at a little past 10. Gujarat's former minister of state for home has been lying dead in a car in the centre of town for more than two hours. The police are still a good half hour away.
The police control room gets several calls between 9:30 and 10.Something's happened to Pandya, nobody knows quite what, where. The police don't even seriously care to find out until Neelesh Bhatt calls up the Ellisbridge police station (the nearest and located in Pandya's erstwhile Assembly constituency) and speaks to a Sub-Inspector (SI) Naik. Naik leaves for the spot.
Meantime, the Ellisbridge police receive another call from the control room — find out what's happening at Law Gardens, there's a commotion, there are rumours. Now another SI, YA Shaikh, heads out. Midway to Law Gardens, Shaikh gets another control room call — go to Parimal Gardens, not Law Gardens; he changes course. At 10:50, he gets yet another call, this time to head to Law Gardens. He lands there at 10:54, nearly three hours after Pandya might have been shot. And guess what? Shaikh's colleague, SI Naik, who started for Law Gardens ahead of him, still hasn't reached the spot. Who was ordering the local police about that morning? Why such delay in getting to a spot that is no more than ten minutes away?
The botched up investigations
Pandya's body is hauled out of the car, sat at the back of a police jeep from the Navrangpura station (because they thought he was still alive? because they could not fit him in lying down?), and driven to the Vadilal Sarabhai Hospital as news of the murder spreads and leaves the city stunned. Strangely for such a high-voltage incident, no scene-of-crime records are kept. No photograph, no footage, no visible record other than a sterile shot of the car, taken later. Even the media has no images from the spot. It never got there. A television reporter in Ahmedabad, on the beat that morning, has this explanation: "Nobody seemed to know anything until it was too late. By the time we got to know, the scene had already shifted to the hospital, that's where the tamasha was happening. I know it is strange not to have any images from the scene, but that is how it happened. By the time some of us got to Law Gardens, there was nothing."
But the story gets stranger as it progresses.
The post-mortem, conducted at the VS Hospital the same afternoon, reveals Pandya sustained seven bullet injuries. From five bullets. Five of these injuries are 0.8cm in diameter, two are 0.5cm. It is scientifically possible for the same firearm to cause different-sized wounds because of surface tension and resistance. It is also possible for five bullets to leave seven injuries because bullets can travel through body parts. But independent experts who have examined the case closely maintain that it is highly unlikely in this case. Two bullets, in other words, have not been traced.
The bullet that caused injury number 5 on the post-mortem report was fired into the lower part of Pandya's scrotum and travelled upwards into his chest, piercing his abdominal wall. Is it possible for a man sitting in a car — and a heavyset six-foot-plus man like Pandya in a small Maruti 800 at that — to be shot through the scrotum? The lone eyewitness says he saw the assailant firing (weapon identified as a Webley-Scott .32 bore revolver) into the opening in the car window. How could he have shot through Pandya's scrotum? Either Pandya had to be sitting upside down in the car, or the revolver had to be below his seat. Common sense and expert opinion deem being shot through the scrotum while sitting in a car an impossibility.
Any man shot through his scrotum, as Pandya was, is going to bleed profusely; the scrotum is an intricate web of blood vessels that control body temperature. Did Pandya bleed? Yes. Are there traces in the car? No. Pandya was shot through his scrotum, his neck, twice through his chest, once through his arm. The car should have been drenched, or at least his seat should have been. Yet forensic reports find no evidence of blood in the vehicle, save for a dab on the front passenger seat and another on the key chain (Central Forensic Sciences Laboratory report no. CFSL-2003/F-0232).
Forensic reports also do not record any gunshot residue inside Pandya's car (report of Mobile Forensic Science Laboratory, Gujarat State). Five bullets, if not more, were fired into him, apparently while he sat in the car. Yet no bullet residue?
Was Haren Pandya shot in his car at all? Or did the murder happen elsewhere and was his body planted in the car later? Where did Pandya go after he left home that morning? There are clues that could help find out. But they have vanished or become unavailable.
When Pandya's body was taken out of the car at Law Gardens, he was wearing shoes; by the time he was taken in for post-mortem, the shoes were gone, there's no record of them. The shoes could contain vital clues to where Pandya went that morning.
Pandya's cellphone, a grey, fliptop Samsung, was recovered by the police from the car. The police either did not care to check or is hiding the call data records from Pandya's phone that day. These could tell who Pandya called or was called by; these calls could, again, be a vital link in getting to the truth. But the call records aren't there. When Pandya's mobile service provider, Hutch, was asked for the records, it produced manifests from January and February of 2003. For records of March 2003, it took a strange plea: they are too old, Hutch pleaded. But surely, January and February come before March.
Could the strange case of Mufti Sufian, an accused in the case, be a part of that cutout? Sufian is a young cleric who made a quick name for himself making incendiary speeches at Ahmedabad's Lal Masjid. It is known that he had become more hardline following the 2002 violence, fanning counter-communal flames during his post-prayer discourses. It is also known he had links with Ahmedabad's underworld which lives off bootlegging. Sufian is alleged to have played a role in contracting Asghar Ali for the Pandya hit. Within a week of the murder, while he was apparently still under watch, Sufian slipped out of the country. Where to? Nobody knows. Bangladesh, Pakistan, Afghanistan, Yemen, nobody quite knows. The CBI elevated Sufian to the rogues' gallery on its website and had Interpol post a red-corner notice for him. He was, on paper, a wanted man, accused of the conspiracy to murder Pandya. Yet, a year or so after Sufian's mysterious escape, his wife and children managed to vapourise as well.
"They should have been under strict watch, they were the last clue we had to Sufian's whereabouts," says a senior police officer, "and yet they got away. How could that be possible? Did someone help them out? Did Sufian hold uncomfortable secrets? Was there a deal?"
Motive for the Murder
In any murder trial, there is usually a mens rea, an intention to kill – someone must benefit.
The prosecution's case was that Haren Pandya had been killed by assailants from Hyderabad to avenge the Gujarat riots of 2002.
But the fact of the matter is that Haren was the minister in the Gujarat government who had secretly deposed before the Citizen's Tribunal about the riots and let it know many facts then not public. He had also in a cabinet meeting advocated that the bodies of the victims of Godhra carnage not be brought to Ahmedabad because that would arouse passion. Mr Pandya and Mr. Amit Shah allegedly watched the destruction of a mosque, so one cannot claim that Pandya was some saint of secularism, but his role in the riots was not as central as compared to several others. After the riots, due to his rivalry with Modi or otherwise, he was certainly helping the victims. There is no compelling argument to explain why Haren Pandya should have been at the top of such a hit-list.
So, this begs the question, if anyone wanted to avenge the Gujarat riots of 2002, why would they pick Haren Pandya before many other figures who played a much bigger role in the riots – such as Maya Kodnani, Babu Bajrangi, Gordhan Zadapahia or any of the Police officers?
Who benefited the most due to Haren Pandya's murder just before he was to move to an influential position in BJP's National executive? Who could have ensured that the investigations into the murder of an ex-Home minister is so carelessly handled and deliberately botched?
References
---
† As per Madhu Kishwar articles, this was party's decision