Bullet Train – The Emperor's White Elephant

Is the Bullet train project economically viable, or is it merely a reckless megalomaniac's vanity project?
In 2005, He loudly announced how his investment in a gas field will make India self sufficient in Energy in two years time. Twelve years later and after spending 20,000 crores down the drain, we have no gas to show for. [1]
In 2007, He announced with much fanfare, the GIFT City near Amhedabad, with 17 Sky scrappers including a 80 storey Diamond Tower, to make Gujarat a combination of New York and California, and employ nearly a million people. [2] This was supposed to be achieved by now, but only two towers stand in the middle of no-where.
In 2011, he promised 52 Lakh Jobs in Gujarat as a result of a massive $450 Billion (Rs 20.83 Lakh Crores) investment that he had supposedly bagged.
Last year, he asked for 50 days to create an India of our dreams, free of black money, fake currency and corruption.
Now, he promises you the Rs 110,000 Crore Bullet train by 2022.
History
In December 2009, Railway Ministry's 2020 Vision document [3] envisioned the following 6 High Speed Rail Corridors in India:
Delhi-Chandigarh-Amritsar;
Pune-Mumbai-Ahmedabad;
Hyderabad-Dornakal-Vijayawada-Chennai;
Howrah-Haldia;
Chennai-Bangalore-Coimbatore-Ernakulam;
Delhi-Agra-Lucknow-Varanasi-Patna
India and Japan signed a Memorandum of Understanding (MoU) to undertake a joint feasibility study of the Mumbai-Ahmedabad route in New Delhi in September 2013. The objective of the joint study was to prepare a feasibility report of the system with a speed of 300–350 km/h. The study was scheduled to be completed within 18 months, i.e. by July 2015.
Even before this feasibility study was actually completed, PM Modi and his then Railway minister Sadananda Gowda had already started talking about this project as if it had already been proven to be feasible. While presenting the new government's first railway budget in Parliament in July 2014, Mr Gowda declared that India's first bullet train will run in Narendra Modi's home state Gujarat. At the time, he had mentioned that it will cost Rs 60,000 Crores.[4]
On 21 July 2015, the Japan International Cooperation Agency (JICA) submitted the final report on the feasibility study of the proposed high-speed rail system on the Mumbai-Ahmedabad route to the Railway Minister, estimating the ambitious project would cost Rs 98,805 crore.[5][6]
After the study of the financial feasibility of the line, the final JICA report suggests the fare of the bullet train between Mumbai and Ahmedabad should be somewhere around one and half times more than the fare of the first AC of Rajdhani Express and it would be around Rs 2,800.
It is estimated that by 2023 around 40,000 passengers are expected to avail this service everyday and only then it would be a financially viable one.
A financial rate of return (RoR) of 4 percent and an economic RoR of 12 percent had been projected for the project.
In December 2015, during an eventful trip of India by Japanese PM Shinzo Abe, that included watching the Ganga Arti in PM Modi's constituency of Varanasi, a deal was signed between India and Japan for this bullet train.
Japan had failed to win a high-speed train deal in Indonesia earlier that year, losing out to a Chinese proposal, so it was no surprise that PM Shinzo Abe was ready to watch a Ganga Arti in order to win this deal. But what's in it for us?
Cost
But, we are getting a Free 0.1% loan!
First Lie being peddled to the people of India by Mr Modi is that this is not costly for us as our friend Japan has done us a massive favour by giving us a "free" loan at 0.1% interest. To quote[7]
Modi said that effectively the cost of the project would be "free". "If somebody tells you to take a loan and return it not in 10 or 20 but in 50 years, will you believe it. India has got such a friend (Japan) which has promised to provide Rs 88,000 crore loan at 0.1% interest," Modi said.
Now, a simple look at the history of interest rates in Japanese Yen loans will tell you that they have been near zero, and sometimes even negative, in the past 10 years. India will still have to pay Yen 2900 Crore (Rs 1,700 Crore) every year.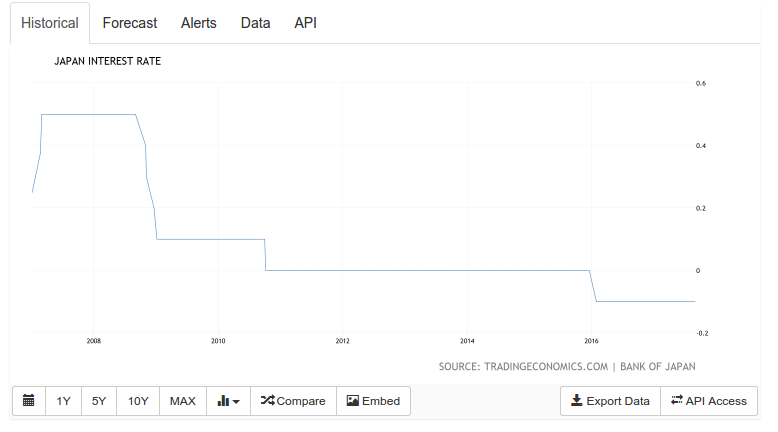 In simple terms, anyone, with a decent credit rating, can borrow in Japanese Yen at near zero interest rates. This is a loan guaranteed by a Government, so any chest thumping over it is akin to bursting crackers over the fact that Mr Modi managed to buy petrol for you at Rs 76 per litre, which is the price everyone is paying anyways.
The Foreign Exchange (Forex) Risk
This project will earn all its revenues in Indian Rupees, to pay back a loan, over the next 50 years, in Japanese Yen. Think and understand this clearly, the Indian Rupee can depreciate or appreciate against the Yen, in Rupee terms, this loan in not free. The annual instalments of Yen 2900 Crores need not remain fixed at Rs 1700 Crore, they may go up too.
To understand this, let us say in 2007, when 1 Rupee equalled 2.5 yen, you borrow 250 Yen (100 Rupees) for 10 years at 0%. You have to pay back 250 Yen today. You realize you now need 145 Rupees to buy the same 250 Yen, as the exchange rate has now become 1.7! In Rupee terms, you borrowed Rs 100 and paid back Rs 145.
To put in simply, in the past 10 years, while you got a 0% interest loan in Yen, because of the foreign exchange rate changes, you actually paid a 45% in interest after 10 years. This is about 3.8% per annum.
Sounds scary? Far fetched? Actually, look at the chart below, I have in fact used the real average Rupee-Yen Forex rates from pre-2007 period and 2017 for my example.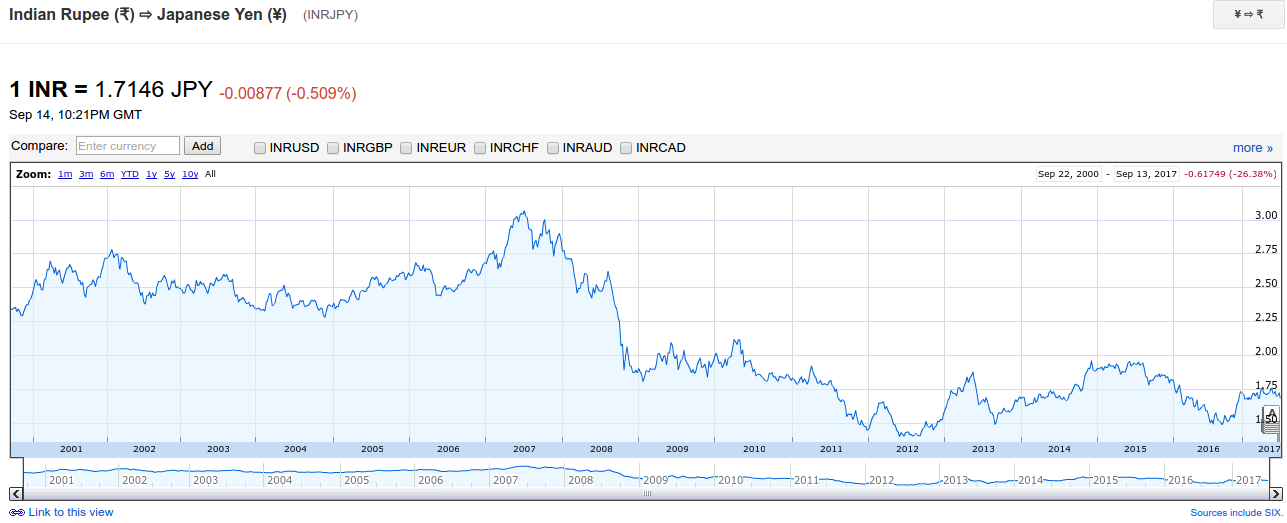 Of course, the rupee can appreciate too, nobody knows. The companies who have similar forex exposure, do not want any uncertainty, so there are financial instruments such as Forex Forward contracts, or Cross Currency Swaps, that can (and most likely will) be used by our Railways to guard ourselves (hedge) against this risk. These instruments are sold by large banks. Large banks do not sell these for charity, but to earn profit. They will charge enough from our railways so that they don't have any risk in doing this deal. In summary, yes, we can protect ourselves against the Forex risk, but it will come at a cost, which will not be 0%. You can think of this hedging as an Insurance to protect you from the adverse event, for which you have to pay a premium.
Nowhere in the financial press of today's India, have I come across anyone talking about this Forex risk, or indeed the cost of hedging it. If the cost of hedging this Forex risk is around 4%, then this is not a financially viable project even by the feasibility study. A 10 year Indian government bond yields 6.6%, and the 10 year Japanese bond yields 0.04%. By interest rate parity, this implies a no-arbitrage 10 year Forex forward rate of about 6.5%. Or, if you buy Yen today for delivery 10 years later to hedge risk with exchange rates of Yen, you will pay around 6.5% per year more in Rupees than the spot price. If the price is any different in an efficient and liquid market, somebody can earn "free money" with very low risk by borrowing at nearly 0% in Yen, and using these funds to buy Indian Government bonds, and buying a Forward Forex contract to insure against any exchange rate risk. [8] Further, basic market economics dictates that as soon as a large number of players seek to exploit such a "Yen Carry" trade, its risk neutral profit would reach an equilibrium level of 0.
Indeed, a look at the price at which current Forex Forwards for Indian Rupees (INR) vs Japanese Yen (JPY) are being priced on Bloomberg confirms the above. We have summarized the exchange rates for each term in the table below for easier understanding.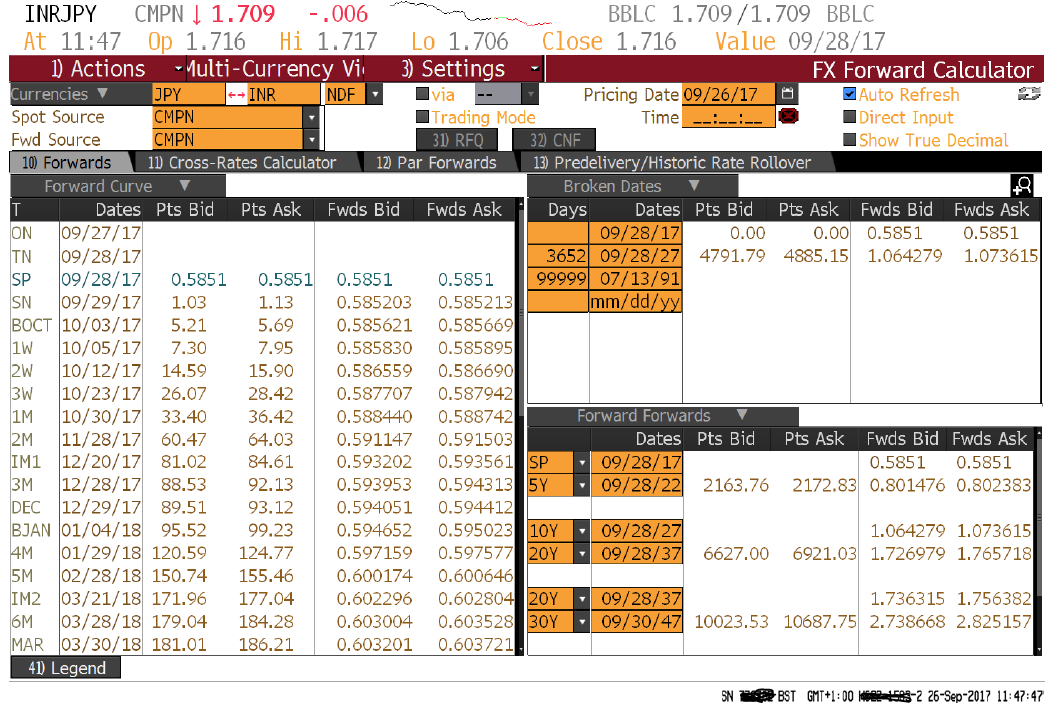 | | | | | |
| --- | --- | --- | --- | --- |
| Term | JPY | INR | Rate INR/JPY | Rate JPY/INR |
| Spot | 100 | 58.51 | 0.5851 | 1.709109554 |
| 5 Year | 100 | 80.15 | 0.8015 | 1.247660636 |
| 10 Year | 100 | 106.43 | 1.0643 | 0.939584704 |
| 20 Year | 100 | 172.7 | 1.727 | 0.579038796 |
| 30 Year | 100 | 273.8 | 2.738 | 0.365230095 |
The Spot rate is the Forex rate today. Each of the Forward Rates for future delivery dates (5 Year, 10 year) is what you pay in Rupees today to lock in the exchange rate for the purchase or sale of Yen on a future date.
Benefits
Passenger Numbers Needed for Break-even
The JICA feasibility study itself had suggested that the project needs to have 40,000 passengers daily at a fare of Rs 2800, in order to be financially viable. An IIM report states that if Railways set the ticket price at Rs 1,500 per person 15 years after the operation, it will have to ferry between 88,000 and 110,000 passengers every day to ensure it repays the loans on time.[9] As the capacity of the bullet train is 750 passengers, although this can possibly be increased to nearly 1000, this will need about 100 trains daily, one every 15 minutes, (or one every half an hour from each direction). Both these studies imply an annual operating cost of over Rs 4000 Crores.
Now, ignoring the fact that some of these people can take a 1 hour flight, which if booked in advance can be bought for anywhere between 1,700 to 2,700 rupees, first let us try to establish what can be the demand here?
10.8 million (1.08 crore) people were travelling across the country on its trains on any given day, which is around 0.9% of the country's population! (Source: Ministry of Railways (Railway Board) Indian Railways' Year Book 2012-13). The total population of Greater Mumbai region is 1.8 Crores, and that of Ahmedabad about 60 Lakhs. Add some more cities too, we are looking at a region with a population of 2.5 crores in total. Going by our national average, about 1% or, 2.5 lakhs from these cities are travelling in long distance trains every day. The IIM study would require that 40% of all long distance travellers from Mumbai are to Ahmedabad every day, and they need to take the Bullet train. Now, just look at any long distance train passing you next time. Check how many coaches are of various types. A tiny fraction of our population uses even the current Air Conditioned classes, and we are expecting so many people to afford a Bullet train fare daily? An RTI revealed that 40% of the seats in the 32 current mail and express trains between Mumbai and Ahmedabad remained vacant in the past quarter, causing a loss of Rs 30 Crores to the Indian Railways.  [10]
Let us look at London-Paris Eurostar link, another high speed rail link that connects two large cities of Europe with a combined population of about 2 Crores, that have per capita incomes that are nearly 20 times that of India. In both Paris and London, the airports are very far away from the city centre, and the Eurostar train terminals are right in the City centre. Yet there are only 18 trains daily from London to Paris in each direction. In Mumbai, the proposed Bullet train terminal at Bandra Kurla complex will present no obvious advantage over travelling to the nearby domestic airport terminal at Santa Cruz.
A bullet train network inaugurated 10 years ago in Taiwan, another country that is far more affluent than us, using the same Japanese technology, was on the brink of bankruptcy. Its seat occupancy remained below 60%, and the company was bailed out by a taxpayer funded bailout. [11]
But, this "soft loan" is specifically for this project
There are a large number of things we could have spent Rs 110,000 Crores on. Our banks are struggling under stressed Non Performing Assets, that have brought new investments and corporate borrowing to a grinding halt, Our farming sector is struggling with impact of two droughts and then DeMonetisation, We could invest a high amount on things such as Solar Power with a long term benefit for all Indians, instead of a tiny fraction of the rich amongst the Mumbaikars and Amdavadis, who already live in the relatively prosperous states of India.
Even for railways, a similar amount could have been spent on upgrading the tracks and signalling system in the whole network, revamping all rolling stock, fixing all level crossings, and improving safety on a network that causes 15,000 deaths every year, as Kakodkar committee had recommended in 2012. Instead of fixing these issues on our 65,000 Km network used by 3 Crore Indians daily, we are blowing up this amount on 500 km of bullet train tracks, that will be used by less than 0.3% of total train travellers in India, even by the most optimistic projections. [12]
The chart below shows a comparison with this huge capital expenditure, with our regular expenses on several items such as health and education.[13]


Whenever confronted with such data, I have seen many supporters of the Bullet train point out that the "soft loan" from Japan is just for this project, and not for any of these other things.
This is true.
A car company also gives you a loan only to finance the buying of its own car, not for using that fund to spend on your children's education. We are borrowing from Japan to buy their bullet trains. Money will eventually create jobs in Japan, and boost their exports, just as a car loan helps the sales of the car company.
The question to be asked is, If you have a large home loan to pay off, you don't have enough money to pay for your sister's and brother's education and marriage, your grandfather's medical bills are rising, but your father goes to the nearby Ferrari showroom and buys a 2 Crore car just because it was being financed on a 0.1% cheap loan – to be paid after 15 years. If you father is trying to convince you that the car salesman has been a great friend by doing this "favour", would you call it prudent? Especially when, just as you suspected, you realize that the primary motive of your father was to show off to the neighbourhood "Sharma uncle"?
Summary
Given finite funds, If India had to choose between rail services that would give the biggest benefit for money (bang-for-buck), it would opt for 160-200 kmph semi-high speed trains connecting the metros with satellite cities that would make quick getaways possible. If one could cover the distance between Delhi and say, Agra, Chandigarh or Jaipur in about one hour, it would make sense to live there and work in the Capital. Such services would de-congest the metros, bring down the cost of living, improve the quality of life and spread economic development around.
The Japanese had themselves recommended semi-high speed trains for the Delhi-Mumbai route when the western freight corridor became operational. The study for METI mentioned earlier estimated the cost of a semi-high speed line with journey time of twelve hours to be $6.85 billion (Rs 45,900 Crore). This would jump to $16.34 billion (Rs 109,500 Crore) for a ten-hour journey route, at an average speed of 140 kmph. Overnight journeys between the two metros would be possible compared to current sixteen-hour journeys by the Rajdhani at the average speed of 87 kmph.
Instead, we are now spending similar amount on a third of that route.
Cheerleaders in media, who have been telling you how great an "achievement" this 0.1% "soft-loan" is, are defending this using the usual jumlas such as "Make In India" and so on, where as in reality, there is going to be no transfer of technology in this project! [14]
It is not even clear if there was any competitive bidding process for such a huge project. Our current estimated cost is $32 Million/km. For comparison, China built its high speed network at $17-21 Million/km, and Europe at $25-39 Million/km. An average hour-long trip in the Shinkansen trains in Japan costs about $100.
[15]
And mind you, these high-speed trains barely make both ends meet in Japan; they do not generate any profit.
People in Japan, whose per capita income is $50,000, can afford to take such trips; how many people in India, where the per capita income is $1,500 dollars, can afford it?
With over ambitious passenger numbers to justify the ticket price, no clarity about the Forex risk, and needless chest thumping over a 0.1% loan, and the media circus, are we watching the birth of a white elephant ?
References
1.
"Gujarat"s gas find is a jackpot'. 2005.
Rediff
. July 1.
[Source]
2.
Modi's "GIFT" can rival Mumbai. 2007.
Rediff
. June 27.
[Source]
3.
Indian Railways – Vision 2020. 2009.
Indian Railways
. December.
[Source]
4.
Ghosh, Deepshikha. 2014. India's First Bullet Train To Run In PM Modi's Gujarat.
NDTV.com
. July 8.
[Source]
5.
Costly dream: Mumbai-Ahmedabad bullet train project to cost Rs 1 lakh crore. 2015.
Firstpost
. July 21.
[Source]
7.
Modi mocks Bullet train critics in style. 2017.
The Financial Express
. September 14.
[Source]
13.
Daniyal, Shoaib. 2015. One chart that shows just how absurdly wasteful Modi's Mumbai-Ahmedabad bullet train line is.
Scroll.in
. December 13.
[Source]
14.
Shinzo Abe in Gujarat: Will bullet train be a win-win for Japan and a no-win for India? 2017.
Firstpost
. September 14.
[Source]