SIT – Role of Police officers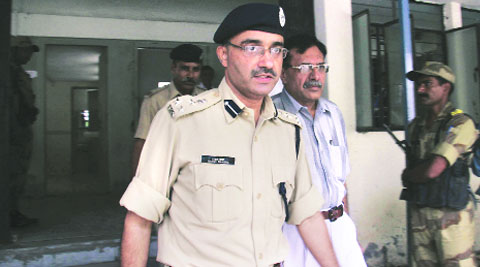 Even the Police officers directly indicted by the SIT itself, had been rewarded by the Gujarat Government.

Strangely, the SIT still rejected the allegations about treatment of officers
Allegations
Two specific allegations in Zakia Jafri's petition were related to the manner in which Gujarat government dealt with Police officers and senior bureaucrats.
1) Allegation VI – ill treatment of unbiased officers such as Rahul Sharma, Vivek Srivastava, Himanshu Bhatt.
Officers from field executive posts were transferred (by the CM), in the thick of the riots despite DGPs objection so as to facilitate placement of those who were willing to subvert the system for political and electoral benefits as narrated in Para 67 of the complaint dated 08.06.2006, wherein instances of punishment, ill-treatment etc. are listed in respect of the following officers : (1) Shri Rahul Sharma,IPS, (2) Shri Vivek Shrivastava, IPS, (3) Shri Himanshu Bhatt. IPS, (4) Shri M. D. Antani, IPS, (4) Shri R. B. Sreekumar, IPS and (6) Shri Satishchandra Verma,IPS.
2) Allegation VII  – rewards and promotions of officers with suspicious conduct, and negligence of duty – Tandon, Gondia, Pande
Senior officials were rewarded with undue benefits, even while their conduct was under the scrutiny of Nanavati Commission. as narrated in Para 68 of the complaint dated 08,06.2006, wherein "Rewards" for collaborating with the illegal plans of CM/BJP- during 2002 riots and afterwards are listed in respect of the following officers: (1) Shri G. Subba Rao, lAS. the then Chief Secretary, (2) Shri Ashok Narayan, lAS. the then ACS (Home), (3) Or. P. K., Mishra, lAS, the then PS to CM, (4) Shri A. K. Bhargava, IPS, (5) Shri P. C. Pandey. IPS (6) Shri Kuldeep Sharma, IPS. 17) Shri M. K. Tandon. IPS. (8) Shri Deepak Swaroop. IPS. (9) Shri K. Nityanandam. IPS, (9) Shri Rakesh Asthana, IPS, 10) Shri A. K. Sharma. IPS, 11) Shri Shivanand Jha, IPS, (12) Shri S.K. Sinha, IPS. (13) Shri D. G. Vanzara, IPS.
Note that the officer #11, Shivanand Jha, was himself the member of the SIT doing this probe!
Background
While Modi and his supporters claim that the 2002 violence in Gujarat was a spontaneous reaction to Godhra, the violence did not affect all districts of Gujarat, even some districts adjacent to Panchmahal, where Godhra is located, were relatively peaceful.
From the 26 police districts and 4 Commissionerates in Gujarat, in 11 districts there was no death due to riots, and the casualties were negligible (less than the toll in the previous communal violence in these places); namely in Amreli, Narmada, Ahwa-Dang, Jamnagar, Navasari, Porbandar Surat Rural, Valsad, Surendranagar, Rajkot Rural and Kutch-Bhuj.
In 5 districts, and in the Commissionerates of Surat and Rajkot there were very few deaths only due to violence. The five districts are Bharuch (2 deaths due to violence), Junagadh (2), Patan (4), Vadodara Rural (4) and Bhavnagar (2). The Commissionerate of Rajkot city had 4 deaths due to violence.
Surat – the second populous city in Gujarat, reported only seven deaths due to violence though in previous communal disturbances, particularly in the 1992 post-Babri Masjid demolition violence, hundreds of citizens were killed. This is in sharp contrast to the 326 killings in Ahmedabad city and 32 in Vadodara city in mass violence.
The table below summarizes what happened to officers of these districts.
Officers of Districts with little rioting

| No. | District | Casualties | Officers | Action | Consequence |
| --- | --- | --- | --- | --- | --- |
| 1 | Bhavnagar | 2 (in Police firing) | Rahul Sharma | helped bring a volatile situation under control. On March 1, 2002, he prevented an attack on a school that housed over 400 Muslim children by opening fire on the mob. Sharma refused to release the 21 persons/leaders belonging to the Sangh Parivar who were arrested for the attacks in Bhavnagar despite being under immense pressure to do so | was transferred to the relatively unimportant post of DCP (control room) on March 24, 2002 |
| 2 | Kutch | 0 | Vivek Srivastava | Srivastava had arrested a commandant of the Home Guard with known VHP links who was creating trouble in the border district. He carried out the arrest despite instructions to the contrary from the chief minister's office. | was transferred to the post of DCP (prohibition and excise) in March 2002 |
| 3 | Bharuch | 2 | MD Antani | action against some BJP/VHP supporters creating political turmoil in Bharuch | transferred out of Bharuch to Narmada district in March 2002 |
| 4 | Surat | 7 | VK Gupta | ensured that there were no riots in the city, The commendable performance of Surat City Commissioner (VK Gupta, IPS 1977 batch) and his team is in contrast to 326 killings in Ahmedabad city and thirty two (32) in Vadodara city in mass violence. | went on central deputation the same year. This was Gupta's last posting in the state. |
| 5 | Mehsana | | Anupam Gahlot | reportedly saved more than 1,000 people during the riots, and was taking strict action on those arrested. | he was transferred from Mehsana, sidelined and given punitive postings. |
| 6 | Banaskantha | | Himanshu Bhatt | As SP, Banaskantha, he suspended a sub-inspector leading a Hindu mob. | Ironically, the sub-inspector was sent back to his post and Bhatt was shunted out as SP, Intelligence to Gandhinagar in March 2002. |
| 7 | Surendranagar | | Vinod Mall | efficiently controlled violence and foiled attempts at provocation in his district | posting in Ahmedabad which effectively deprived him of direct charge of a district. |
| 8 | Bhuj | | Satishchandra Verma | ordered the arrest of a BJP MLA from Banaskantha for his involvement in the murder of two Muslim boys during the 2002 violence. He carried out the arrest after fresh investigation entrusted to him as part of the review of about 2,000 riot related cases initiated under orders from the Supreme Court in August 2004. | was transferred in March 2005 to the post of officer in-charge, SRP Training Chowky, Sorath, Junagadh, a post usually occupied by officers at the level of SP |
A report from the Times of India from Mar 25, 2002, titled "CM 'punishes' officers who didn't toe line", describes some of these transfers as they were being seen back then.
Ahmedabad: In the second major reshuffle within a week, the state government on Sunday evening transferred 27 IPS officers and promoted some deputy superintendents of police putting them in charge of districts – a move that is largely being seen as the Modi regime's way of 'teaching a lesson' to the bad boys – those IPS officers who did a remarkable job and kept communal passions under control in their districts by arresting or booking the offenders, were moved to insignificant posts.
Another report from the same period informs how several of these Gujarat Police officers were preferring an assignment in war torn Kosovo over remaining in Gujarat.
SIT's findings
SIT has rejected both these allegations by Zakia Jafri. So, according to the SIT, No honest officers of riots period were harassed, No non performing officers were promoted or rewarded.
If you look at the relevant pages (32-36) of 2010 SIT report, this conclusion was based primarily on the basis of just speaking to these officers. Firstly, it expected the allegedly harassed officers to simply state it to the SIT composed of the senior officers of the force that harassed them, without any fear of repercussions.
However, Shri Rahul Sharma has stated that he would not be able to comment on the circumstances that led to his transfer from Bhavnagar to Ahmedabad City as transferr posting is the prerogative of the Govt.

However,Shri Vivek Srivastava was unwilling to comment upon the reasons, as according to him, as transfers were the prerogative of the Govt.

However, Shri Antani has stated that he can not comment on the allegation that he had been transferred from Bharuch for taking action against the BJP supporters.

However, Shri Verma has stated that he can not say that this transfer was a consequence of this aforesaid order. He has also stated that he can not call the post of Principal of a training institution unimportant.
SIT itself also remarks that
Although, the aforesaid witnesses have stated that they can not comment on their transfers, yet the same appear to be unusual and fishy…
And then somehow manages to arrive at this conclusion
though their transfers were immediately after certain events in their jurisdiction. yet according to them postings/transfers being the prerogative of the Govt, the same can not be linked to certain events that took place immediately before their transfers.

On account of the aforesaid factors, this allegation therefore, not established.
The same is the case with the cops who are accused of being complicit in killings, and given rewards, they are being asked if this is true! Most of them deny these charges, and of course, justify their subsequent promotions and appointments.
I am guessing the learned SIT was expecting some unusual burst of humility and remorse from these officers? – "No I did not deserve that promotion".
SIT does not see anything unusual in this.
Dr. P.K. Mishra has stated before the SIT that the same was totally absurd and ridiculous.

Other allegations relating to harassment of officers and agreeing to the illegal activities of the Govt.,

Shri Bhargava has denied, as the same are vague and no specific instance has been cited. The allegations are therefore, not proved against him
SIT also found that MK Tandon and PB Gondia behaved irresponsibly, and were unable to prevent two of the largest massacres in Ahmedabad – Naroda and Gulberg.
Last but not the least Shri M.K Tandon had received two calls on 01·03·2002 at 1137.hrs for 250 seconds and 1256 for 161 seconds from accused Jaydeep Patel and two 'calls on 01-03-2002 at 1458 hrs for 32 seconds and at 1904 hrs for 61 seconds from accused Smt. Mayaben Kodnani for which he has not been able to give any satisfactory reply.

It is evident that Shri M.K. Tandon and Shri PB. Gondia did not visit Gulberg Society under various pretexts, Moreover, both of them were in touch with the main accused persons, namely, Mayaben Kodnani and Jaydeep Patel. This is suspicious.
So, how did Modi government treat these officials?
If SIT is right about dismissing these allegations, as well as about the roles of officers MK Tandon and PN Gondia, surely they must not have been rewarded by the Gujarat Police.
Bad Cops
M K Tandon who was the joint commissioner of police of Sector II, Ahmedabad, in 2002 and in whose jurisdiction more than 200 Muslims were butchered to death, was given the important post of inspector-general (IG), Surat range, soon after the riots. In July 2005 he was appointed to the post of Additional Director General of Police – ADGP (law and order) at the state police headquarters, a position with statewide jurisdiction, and 2nd highest level of post after DG. Tandon retired from the same position.
PB Gondia deputy to Tandon, was DCP, Zone IV, at the time. He was promoted to the powerful post of IGP, State CID, and the post of joint director, civil defence. After getting promoted again in Aug 2015, he currently enjoys the ADGP post.
 I have another question. Let us assume, for a moment,
Tandon and Gondia were NOT acting on any senior's orders and acted irresponsibly of their own volition, as SIT appears to believe.
Gujarat government under Mr Modi was serious about saving lives, and after the riots, serious about punishing the guilty, as SIT appears to believe.
Why did Gujarat government not take action against them immediately on its own? Why are all these officers "rewarded" with lucrative promotions instead?
Not that we see any evidence whatsoever that they have taken action even after SIT report that came 10 years later!
Good Cops
Contrast that to Mr Rahul Sharma, the officer who saved 400 kids from being burnt alive in a school, but was harassed constantly.  Rahul Sharma was first given a desk job posting – typically seen as a punishment, soon after he saved the kids, and fired on a mob of Sanghi leaders.
He then obtained the call data records from the 2 mobile operators of Gujarat. These were in 2 different formats. He merged them into a single format file, and created a CD, which he mailed to Tandon. These call data records where instrumental in the investigations later, as they showed location of the key perpetrators.
This CD was lost.
Rahul sharma was punished for losing the data that actually he himself had  collected.
Luckily, he had done the file merging on his personal PC, and had the backup. He was able to produce the CD again for Nanavati commission. He was again punished for this. for holding the data in his personal computer.‡
He has been fighting cases at CAT. Just recently, charges against him by Gujarat Govt were ruled as :
"tainted by mischief and coloured by malafide".
Yet, Gujarat Home department has issued one more notice against him.
"On January 12 this year, i.e. much after Rahul Sharma's retirement, he has been served with another show-cause notice for asking the government to make an "unnecessary payment" of Rs. 3,000 because he asked his driver and gunman to stay back in Gandhinagar in February 2012 while he was on sanctioned leave."
More such examples of this 'carrot and stick' approach can be found here and here.
So, can we still trust the findings of the SIT, which was itself dominated by the tainted officers of Gujarat Police, who have been "rewarded" by the Government led by the accused ?
---
† PC Pande did get a clean chit by SIT. However, he has been implicated in some other cases of fake encounters.
‡ Mr PC Pande had the missing police call records that suddenly resurfaced 4 years later in his possession. He escaped any action for this, see Mystery of missing Police records
¹ Geetha Johari, member of SIT, is now also MD of Gujarat police Housing Corporation.